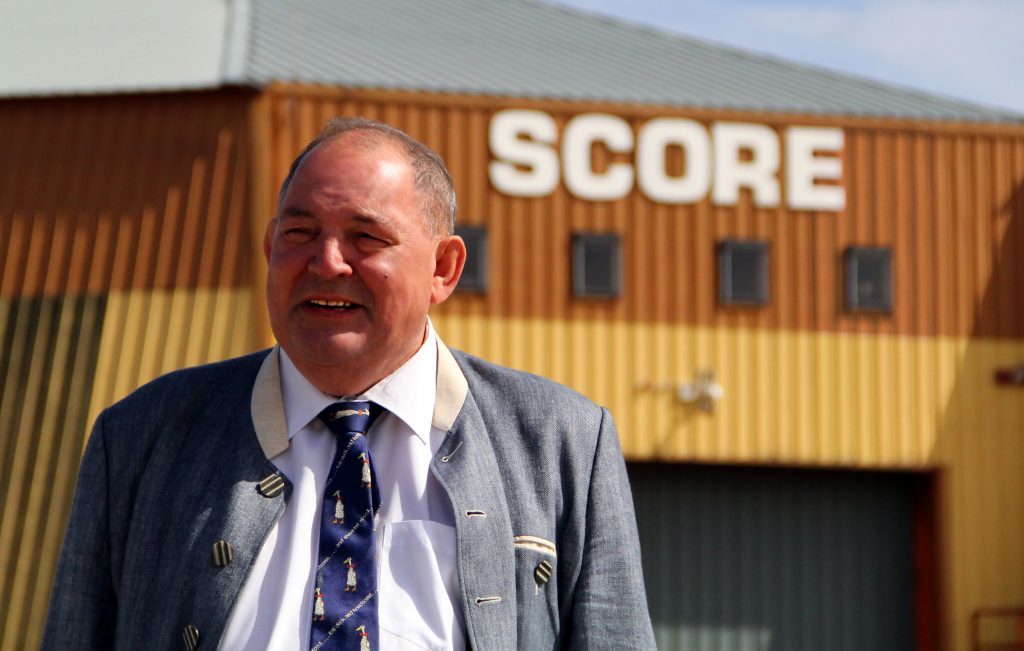 One of the first major deals of 2020 has just completed as family-owned Score Group has been bought by private equity firm SCF Partners for £120 million.
The business, founded by Peterhead's Charles Ritchie in 1982, has long been the town's biggest employer, with 1,900 people on the books across 14 different countries.
Having been privately owned and operated for the last 38 years it will perhaps appear to be a big change for those who have seen out most of their career there.
However, the new owners, specialist investors in energy services with 30 years' experience of building businesses in North America, Scotland, the Middle East and Australia, say they are committed to the development of the company.
And they have insisted they will continue to invest in apprentices and the local community.
Sitting down for their first interview since the deal completed at the start of this month, new chairman Colin Welsh and chief executive Peter Stuart said they were really excited about the potential the business had.
"We had always admired the business from afar, but we never imagined it would come up for sale," said Mr Welsh. "But in June last year we were made aware the family were keen to sell and we knew we had to invest. Of all the things we were looking at, we knew it was really something we wanted to buy."
Mr Welsh said the main goal was to grow the business, especially in Australia and Houston.
He said: "People often don't really understand private equity and there is this fear that we're going to chop the company up into bits and sell it off, but that's not what we want to do. We really want to help this business – which is world class in the field that it's in – grow to significant scale.
"We have a great record for doing that already with other businesses we have acquired, like Centurion Group, so we're excited to get in there and get started."
Score Group was taken over by the Charles Ritchie Family Trust following the founder's death in 2017, having inherited his majority shareholding (96%).
The trustees saw it as their duty to deliver his ambition of securing long-term prosperity for the business, its employees and the local economy.
Having steered the business through the period following Mr Ritchie's death, the board – led by chairman Keith Cochrane – and the trust set out to find a buyer who they said would respect the founder's legacy.
Mr Cochrane said he believed they had found a buyer who understands Mr Ritchie's ambitions for the business.
These were to ensure the long-term growth of the company, creating and safeguarding opportunities for its employees and maintaining its positive impact on the north-east of Scotland.
As a market leader in the supply and repair of valves to the oil and gas, nuclear and marine industries, Score supports around 800 workers in the north-east at the company's headquarters and global centre of excellence.
Mr Stuart said they were committed to supporting the development and advancement of the workforce and to anchoring the company in Peterhead.
He said: "Since the deal has completed we have spent a number of days in Peterhead speaking to as many people as possible about what we want to do with the company.
"There's so much experience in that building and many people have spent their whole careers there, over more than 30 years. We really value their input and have already been taking a lot of what they have said on board.
"One of the things people were most concerned about was the apprenticeship scheme.
"Going in, we didn't really realise just how important it was to the business and the
local community as a whole, but having seen just how much of an important role it plays, it will remain one of our priorities."
Mr Welsh added: "Before we committed we had all the partners from SCF come over to get a tour and everyone could see it was a quality business.
"The Ritchie family have to take so much credit for building it up to where it is today. Our job is now to take it to the next level and we need all the staff's support in order to do that."
Mr Stuart said the biggest challenge he faces is deciding what to do first. He said SCF Partners sees huge potential in many areas of the business for growth.
He said; "The hardest thing for us at the moment is to decide what to focus on first. As with everything, we can't do it all straight away, so it will be a gradual process."
Mr Ritchie's sons Conrad and Nelson have moved into new consultancy roles to help ensure a smooth transition.
Conrad said he believed the buyers were the right fit for the business.
He added: "We are fortunate to have a unique culture at Score. Our people-focused approach is what has made this business special.
"It's also what makes us successful and profitable. Over the years, those profits have been invested back into the business to further our global growth, enhance our service capability and, most importantly, to train and develop our people.
"This home-grown pipeline of talent is the backbone of Score and a huge part of the family's legacy. I am confident we have found the right fit with SCF Partners, who understand and respect this legacy."
Specialist corporate finance advisers to the energy industry, Simmons Energy, advised on the deal. Managing director Nick Dalgarno said: "Score is a true north-east success story and has an enviable international reputation throughout the industry. It was a privilege to have been chosen to advise."
Recommended for you

'We need more projects like Rosebank': Industry reacts to oil field approval