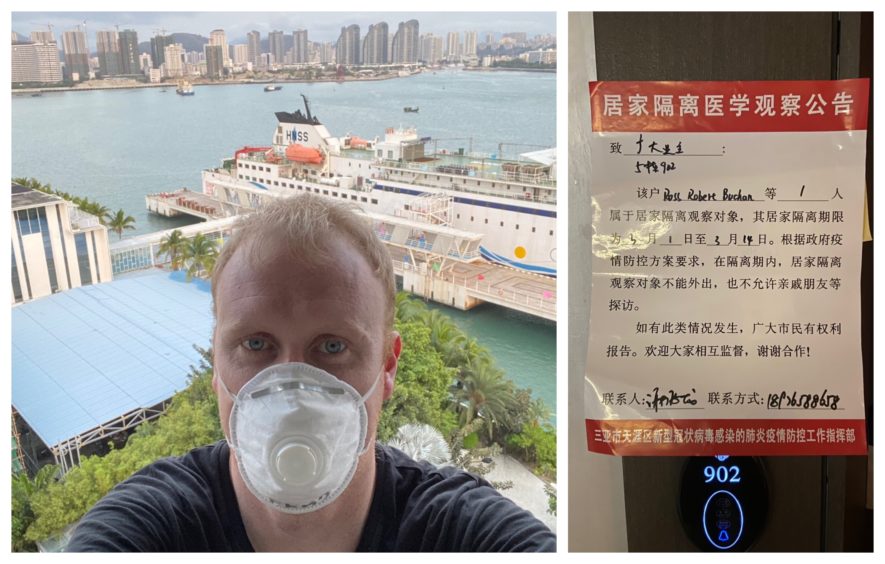 An Aberdeenshire oil worker under quarantine in China has said he "doesn't know" when he will be able to return to the UK.
Ross Buchan has been isolated in a hotel in Sanya, a city on the country's Hainan Island off the southern coast, since arriving on March 1 over fears around the coronavirus outbreak.
The 33-year-old from Fraserburgh is scheduled to travel 50 miles offshore on Sunday to a drilling rig where he will spend five weeks.
After that, it is unclear whether will be able to return home to his wife and two young sons.
He said: "The children are too little, so they don't really realise, but my wife Holly and mum and dad are extremely worried.
"My dad calls two or three times a day at his work. He keeps in constant contact and he would worry about the slightest thing.
"It's pretty much a one-way ticket until further notice. We don't really know when we'll get home.
"I have been speaking to some people here from Scotland and England and no one knows.
"Even if there was an emergency situation I don't know if you would get home, probably not."
The systems driller, who recently bought a new house, was laid-off last month from his previous job with Transocean.
He took the work with Singapore-based Bluewhale Offshore in China as the money would be enough to support him and his family for the rest of the year.
Despite regular medical checks, Mr Buchan said he has no symptoms of the coronavirus.
He is able to move around his hotel while wearing a mask, however meals are restricted to twice a day and he is without laundry services for fear that hotel staff could catch the virus, meaning he needs to wash clothes in a sink.
A sign has also been put up warning others that he is in quarantine.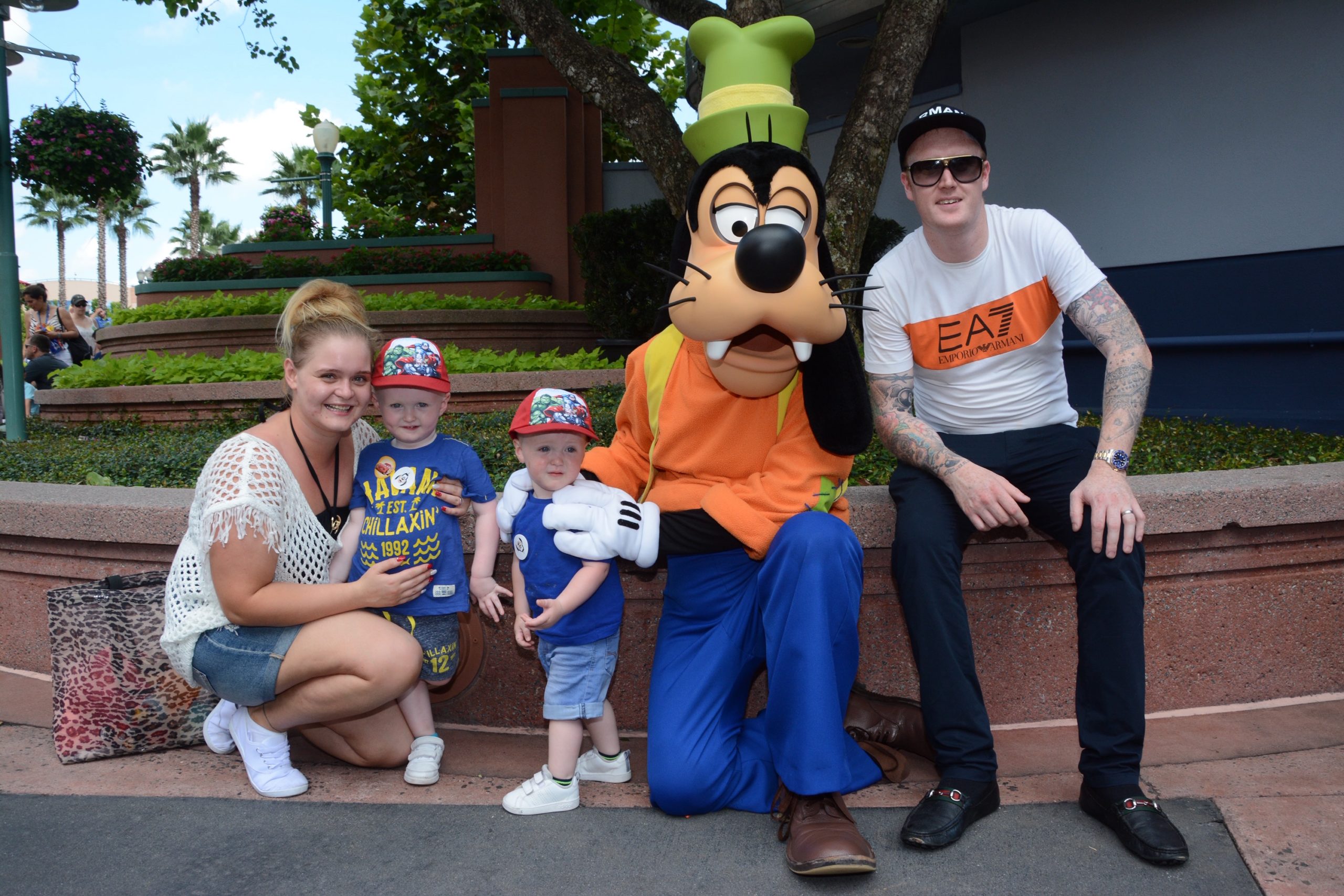 Spread of the coronavirus around Europe has led to locals being cautious around people from the region, Mr Buchan said.
He added: "We get to go around the hotel perimeter but we need to put a dust mask on prior to going out of the room.
"Locals will not share a lift with us. It's like we have a gun or a knife to their heads.
"If there's someone from this region in there then they won't go in, but you don't know how it has been broadcast to them."
Despite being "like Dubai", Mr Buchan said the city of Sanya is "absolutely dead" due to the virus concerns, with "no movement whatsoever".
The prospect of employment led Mr Buchan to take the work China, but it was only when he got on his flight that the gravity of the situation hit.
He said: "I'm one of these people who thought this won't happen to me. It didn't hit home until I got on the flight and people were basically wearing PPE (personal protective equipment).
"People were wearing rubber gloves, face masks and I thought 'this is serious now'."
The UK Foreign Office is currently advising against all but essential travel to China, including Hainan Island, and encourages any British nationals requiring assistance to get in touch.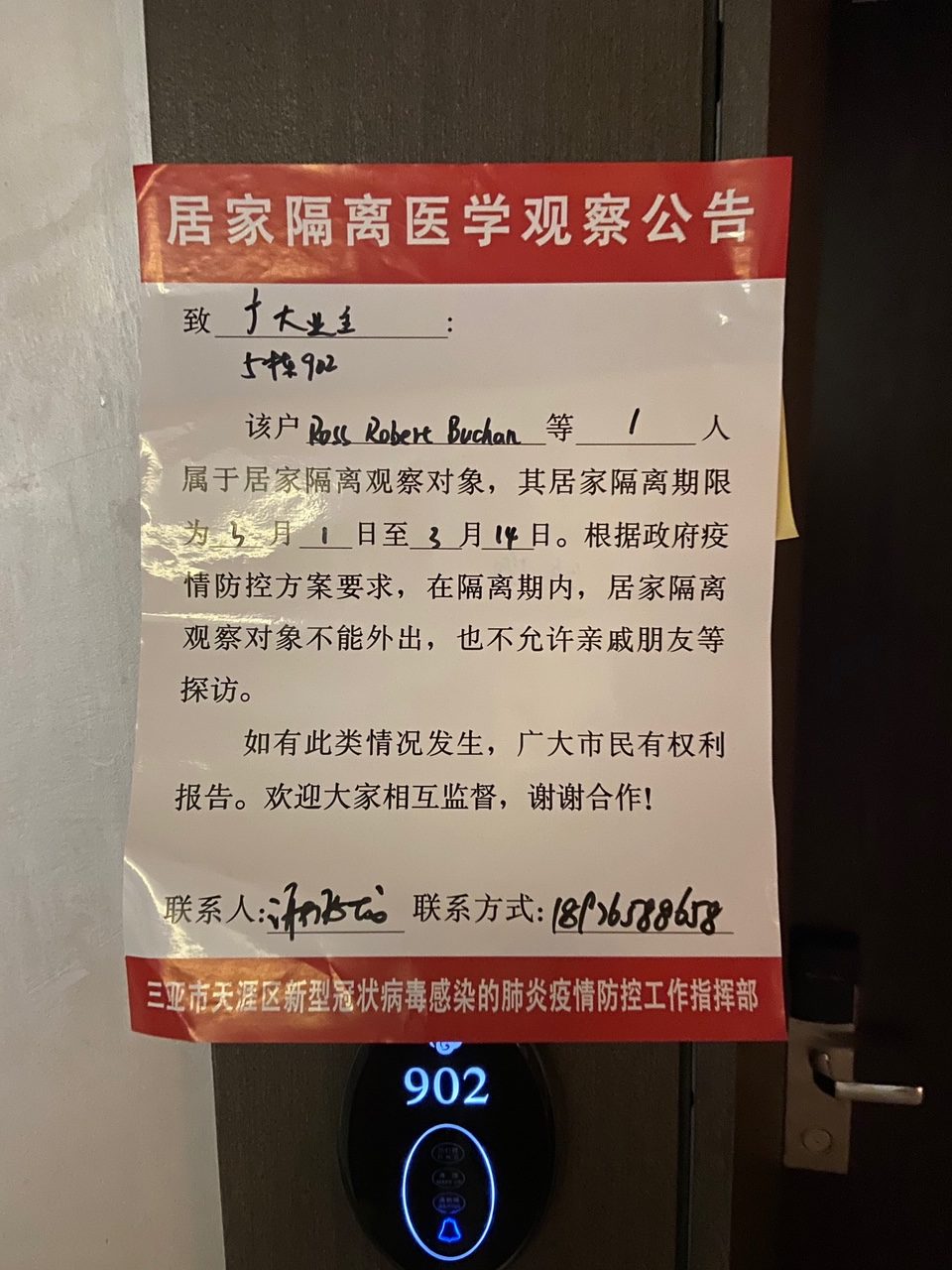 Bluewhale Offshore has been contacted to comment on Mr Buchan's situation.
Even in the event he does get to return home, that would mean self-isolating.
He added: "Even that for myself at home would be extremely hard with my wife and two young children.
"I couldn't drop my kids off to nursery, or off to school. I would be pretty much snookered for two weeks."
On Monday the UK North Sea industry had its first confirmed case of coronavirus from a Shell worker at its regional headquarters in Aberdeen.
Then yesterday Equinor confirmed a case offshore at its Martin Linge platform in Norway.
The Norwegian energy giant is now testing another worker at the Mariner installation in the UK, 80 miles east of Shetland.
There are now 456 cases in the UK, with a total of 36 in Scotland.
Recommended for you

Oil worker travels the world with a suitcase full of butteries