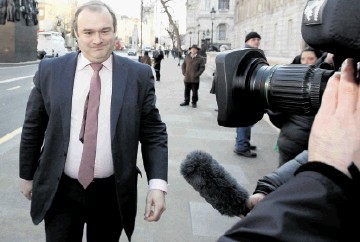 New Energy Secretary Ed Davey has been told his first job should be to get a grip of oil and gas industry policy and avoid any more "shocks".
The former postal affairs minister was promoted to the high-profile energy and climate change brief yesterday after Chris Huhne quit the UK Government.
The 46-year-old Liberal Democrat, who was previously chief of staff to former party leader Sir Menzies Campbell, won plaudits for overseeing the thorny issue of plans to privatise Royal Mail.
An equally tough task in his new role will be to mend the coalition government's relationship with the offshore sector, which was damaged after Chancellor George Osborne's surprise £10billion tax raid on producers last year.
Mike Weir, SNP energy spokesman and Angus MP, said: "Energy secretary is a vital post, particularly given the importance of oil and gas to the north and north-east of Scotland. Obviously, the sudden tax changes previously made have unsettled the industry and it's vital that the new energy secretary, Ed Davey, takes a grip and ensures policy towards oil and gas is put on a steady foundation with no more shocks."
Industry body Oil and Gas UK issued a brief statement which said: "Chris Huhne, as chairman of the industry-government forum Pilot, steered it through some challenging times.
"We look forward to working with his successor, Mr Davey."
As well as oil and gas, the MP for Kingston and Surbiton will also be responsible for the government's £1billion competition to develop carbon capture and storage technology, which Peterhead Power Station is expected to enter.
He is due to confirm the that the Pentland Firth is to become the UK's second marine energy park in the summer, and will also have to lead efforts to tackle climate change and soaring household energy bills.
Labour's shadow energy secretary, Caroline Flint, said: "The appointment of a new energy and climate change secretary is a much-needed opportunity for the government to change course.
"With record energy bills, we need a government that is prepared to stand up to vested interests in the energy industry and put the public first.
"Otherwise people will be right to conclude that Ed Davey is just as out of touch with families struggling with the cost of living as the rest of this government."
Recommended for you

UK spent £50 billion extra on gas since Ukraine invasion, say analysts