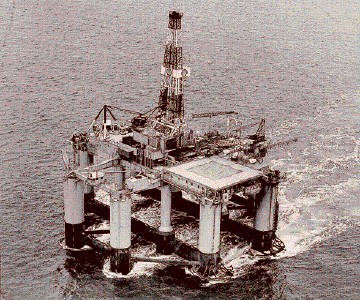 Diamond Offshore Drilling has contracted the Keppel AmFELS shipyard in Brownsville, Texas to construct a moored semisubmersible drilling rig for delivery during Q3 next year.
The company said today that the total cost of the rig, including commissioning, spares, and project management, but excluding capitalised interest, is expected to be around $300million.
Diamond said that the rig, to be named the Ocean Onyx, will be designed to operate in water depths to 1,829m (6,000ft) and will have a variable deck load of 5,000 long tons, a five-ram blowout preventer, and quarters for 140 personnel.
"We think significant opportunity remains for new deepwater units," said Larry Dickerson, president and CEO at Diamond. "No new capacity targeting the standard mid-water and deepwater markets is currently under construction, and this rig should be ideally suited to meet emerging demand in this segment.
"When added to our three ultra-deepwater drillships under construction, this unit will continue the process of renewing Diamond's fleet."
He added that the company will build the Ocean Onyx utilising an existing hull from a Diamond Offshore cold-stacked unit, which previously operated as the Ocean Voyager. This should allow the Ocean Onyx to be built and placed into service in about half the time and at half the cost of current new-builds.
Ocean Voyager is a Victory class rig, was built in Norway, delivered in 1973 and saw service in the North Sea. It was put through a major upgrade in 1995.
Meanwhile, Pacific Drilling has received delivery of its newest drillship, the Pacific Santa Ana from Samsung Heavy Industries in South Korea.
The vessel is said to feature the most advanced drilling technology in the offshore drilling industry, including dual load path capability and dual gradient drilling upgrades.
Pacific Santa Ana is capable of operating in water depths to 3,658m (12,000ft) and drilling wells 12,192m (40,000ft) deep.
The delivery of the Pacific Santa Ana, the fourth rig in Pacific's fleet, completes the first phase of the company's plan to become a preferred ultra-deepwater drilling contractor.
Back in the US, Trans-ocean revealed in its monthly fleet report that it has received two five-year contracts from Chevron for its new-build high-spec jack-ups Siam Driller and Ao Thai. The units, due for delivery next year, are both set for assignment with Chevron offshore Thailand at a day-rate of about $135,000 during their first three years on the job, with the last two years' day-rates to be determined by market conditions.
The Super Class B rigs are currently under construction at the Keppel FELS yard in Singapore.
Transocean also said that it will be carrying out extensive well control equipment overhauls this year on the following drilling units: Sedco 702, Sedco 707, Transocean Prospect, Transocean Leader, Actinia, CR Luigs, Trident 16, and GSF Rig 140.
The company said too that its new-build drillship Deepwater Champion will return to the US Gulf of Mexico from the Romanian Black Sea in June to begin a three-year contract with ExxonMobil at a $640,000 day-rate.