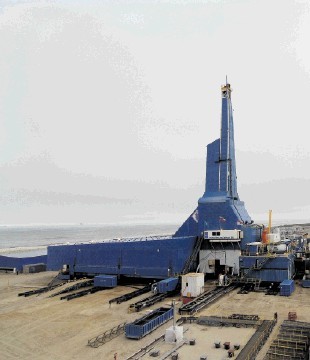 Six super-majors posted the best group performance in 2011, according to the PFC Energy 50 list.
ExxonMobil, Shell, Chevron, BP, Total and ConocoPhillips increased their combined market capitalisation by 8% during 2011 to $1.2trillion.
Chevron, ranked fourth at $211.9billion market cap, increased its valuation by 15% from $183.6billion a year ago–the largest percentage increase of any returning company.
ExxonMobil at $406.3billion held on to the top slot, something it has achieved every year except 2007 and 2009, when the list was headed by PetroChina, which this time ranks second with a valuation of $276.6billion.
However, 2011 did not set a new combined record, despite robust oil prices throughout last year.
"At higher oil prices than four years ago the combined $3.6trillion valuation of the PFC Energy 50 companies still falls short of the peak $5.2trillion in December 2007," PFC Energy's chairman and CEO, Robin West said.
"Several factors drive the lower valuation, including significantly lower North American gas prices and less buoyant global equity markets."
Marathon ended its six-year run on the PFC Energy 50 when it spun off downstream operations in July as Marathon Petroleum. Marathon Oil (+30%) and Marathon Petroleum (+14%) led the exploration & production and refining & marking segments in share price performance.
The combined market value of the two companies increased 24%.
Underperforming the overall list were NOCs (national oil companies) and companies located in emerging markets. With investors viewing these companies more critically due to country risk exposure and lack of portfolio diversification, the groupings posted value declines of 14% and 16%, respectively.
Switching to the supply chain, the Washington-headquartered consultancy said the combined value of the four service sector companies on the PFC Energy 50 list (Schlumberger, Halliburton, National Oilwell Varco and Tenaris) declined by 16% as the global energy industry achieved high activity levels with no significant tightness in services and equipment markets.
PFC Energy, like so many others, notes that a major story of 2011 has been the expanding oil and gas potential of the North American onshore, which has created an intense demand for infrastructure.
In recognition of their growing importance, this year's PFC Energy 50 list includes midstream and pipeline companies, including TransCanada.
Recommended for you

Former Petrofac CEO Asfari snaps up Scots offshore wind business