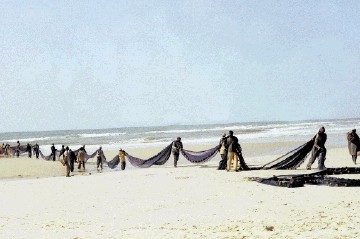 The pace of activity on the geophysical survey and analysis front appears to be taking off with a number of significant contracts already issued for campaigns this year, including to Dolphin Geophysical and TGS Nopec Geophysical of Norway.
In Dolphin's case, the company has just secured two 3D seismic survey contracts covering territory offshore Senegal – Africa, plus India.
The Senegal package with national oil company Petroles du Senegal (Petrosen) is a multi-client survey covering nearly 3,600sq km offshore Senegal.
The survey, to be shot by the Polar Duke, will start next month and is said to be extensively funded by industry.
Dolphin has already acquired 2D seismic data over this area, which it shot last year, and the acquisition of 3D data is the natural progression for such prospective areas where better focus and definition is required prior to identifying possible exploration targets to drill.
Turning to Dolphin's second award for work offshore India, the name of the client has not been disclosed. The 3D campaign will be conducted using the Artemis Arctic (formerly BOS Arctic) and is expected to be completed in early April.
As for TGS Nopec Geophysical, it has reached an agreement with Angola's national oil company Sonangol to carry out a 3D multi-client seismic acquisition over almost 12,500sq km of the Angolan sector of the South Atlantic.
The survey will initially commence over blocks 36 and 37 later this month, then continue over block 35 with acquisition scheduled to complete during the third quarter.
These are highly prospective deepwater pre-salt blocks awarded by Sonangol in late December to Eni (block 35), and ConocoPhillips (blocks 36 and 37), as operators in partnership with Sonangol, CNPC (China National Petroleum Corp) and Repsol.
The high-potential pre-salt hydrocarbon play off the coast of Angola lies between 2,000m and 5,000m below sea level. Angola is already Africa's second largest oil producer and the conjugate margin pre-salt basins, which are believed to be similar to hydrocarbon rich basins offshore Brazil, open a new frontier in petroleum exploration. TGS has chartered vessel capacity for this project. It will process the 3D seismic data in both time and depth using its subsalt capability developed in similar basins.
Preliminary products will be available to participating companies during Q4 this year, with a final processed product expected by Q4 2013. The survey is supported by industry funding.
Meanwhile, Bahamas Petroleum has concluded the initial processing of its Pearl 3D seismic survey shot over a 3,075sq km area in the Atlantic Ocean offshore the Bahamas by CGGVeritas.
According to the company, data quality is excellent and data volumes have been received in both time and depth. Detailed interpretation is now under way and will form the basis for well location selection, well design, and planning.
Processing at this initial stage has been completed with four millisecond sampling and three tomographic velocity iterations. Further processing will be carried out during this quarter and in early Q2, along with more detailed analysis and interpretation refined for specific targets, mapping of seismic facies and attributes analysis.
Bahamas said that early stage interpretation of this new data has confirmed and better defined the prospective structures seen on the previous 2D data.
Significantly, the company said the data provided encouragement regarding source maturity and fetch area.
The 3D indicates the "basement" to be deeper than interpreted previously, implying a thicker, deeper Jurassic (source rock) section.
Further, the interpretation indicates a uniform southwest dip under the Cretaceous platform indicating access to a large fetch area toward the Cuban mainland under the North Cuban Basin.
Simon Potter, CEO, said that the ongoing technical studies and well planning activities represent the final phase of de-risking prior to being ready to start drilling by March 2013.
Recommended for you

Geophysical giants start seismic sweep offshore Sarawak