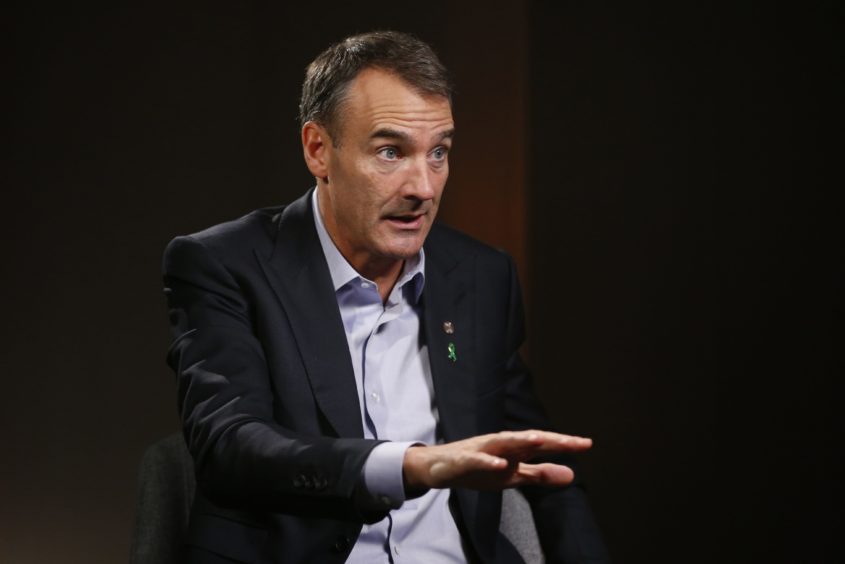 Energy giant BP fell to a £3.6billion pre-tax loss in the first quarter of 2020 as the coronavirus and oil price slump made its impact on the business.
The deficit compares to a £3.76billion profit in the same period a year ago.
BP reiterated that staff were told in March that no one would face job cuts for three months, but did not give any update beyond that in the results today.
Sales and other revenue was £48bn, down 8% from £52.4bn in Q1 2019.
The oil giant said the economic impact of the Covid-19 crisis, coupled with pre-existing supply and demand factors, has brought an "exceptionally challenged commodity environment", with product demand sharply reduced as the population remains in lockdown.
BP said an OPEC deal to cut production by nearly 10million barrels per day from next month is "unlikely to prevent material supply shut-ins by oil prducers in the near term, some of which may be difficult to reverse".
Brent crude reached a 20-year low last week, while the US benchmark WTI went into negative pricing.
ALSO READ: Job security is a 'major concern' says BP chief, but gives no answer on potential cuts
BP's upstream business saw profits before interest and tax drop 66% from £2.2bn to £769m, with impairments being taken in relation to  disposal of the Alaska business, BPX Energy assets and oil price impacts in the UK North Sea.
Exploration and production activities have been delayed in lower margin areas, BP said.
Production was 2.5million barrels of oil per day, down 2.9% on a year ago, however second quarter output is expected to be lower still due to demand uncertainties.
BP said its financial performance will be linked to the current crisis and the "effectiveness of the actions that it and others take" however it is "difficult to predict" what the ultimate impact of Covid-19 will be.
The oil major said it had $32bn (£25.6bn) of liquidity at the quarter's end and 2020 organic spending is expected to be around $12bn (£9.6bn), a 25% reduction on full year guidance.
Cash costs are being reduced by £2bn by the end of 2021 relative to 2019, it added.
Its scheme to divest $15bn of assets is "on track" but remains "challenging" in the current market with $10.1bn of transactions delivered since the start of 2019.
Despite the challenges, BP announced a dividend of 10.5 cents per ordinary
share, expected to be paid on June 19.
Chief executive Bernard Looney said: "This extraordinary time for the world demands extraordinary responses. And thankfully we are seeing that just about everywhere we look around the world. Our industry has been hit by supply and demand shocks on a scale never seen before, but that is no excuse to turn inward.
"BP, like many other companies, is stepping up and extending a helping hand to those in need. We do it not because it is expected of us – but because we want to. That is consistent with our purpose.
"We are focusing our efforts on protecting our people, supporting our communities and strengthening our finances. I am incredibly proud of the work that our people are doing in all three areas, particularly our colleagues in operations – from rigs to retail and everywhere in between – who are continuing to deliver energy and provide goods in the most difficult of circumstances.
"At the same time, we are taking decisive actions to strengthen our finances – reinforcing liquidity, rapidly reducing spending and costs, driving our cash balance point lower.
"We are determined to perform with purpose and remain committed to delivering our net zero ambition."
BP's preferred measurement of underlying replacement cost profit for the quarter was £641.7m, down from £1.9bn a year ago.
Stuart Lamont, investment manager at Brewin Dolphin Aberdeen, said BP's prospects may depend on the world returning to normality.
He said: "There will be a sigh of relief from many retail investors that BP has committed to paying a dividend. There had been a great deal of debate about what the failure to do so would mean for income investors, who will now have a close eye on Royal Dutch Shell's results later this week.
"Aside from the dividend issue, as many expected, profits have fallen at BP on the back of the unprecedented challenges caused by Covid-19.
"The business has committed to an extensive range of cost-cutting measures and is delaying exploration and production activity, which should help it through current volatility.
"Access to $32 billion of liquidity should also support it through the immediate term.
"There is, however, only so much within BP's control and much of its prospects may well depend on how the world returns to some kind of normality in the months ahead, and what that means for the oil price and OPEC production plans."
Recommended for you

BP reports underlying profits of £4.9bn despite impact of Rosneft exit