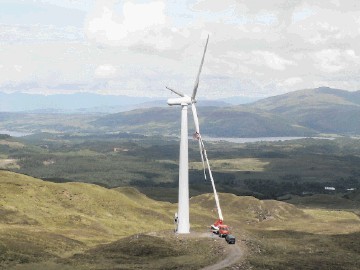 Energy service firm 3sun Group has hailed a deal for control of an Oban-based windfarm engineering business as helping it on the road to global success.
In August 2010, 3sun – a division of what is now 3sun Group – bought the 75% shareholding in Dawson Energy for an undisclosed sum.
It was the first acquisition for 3sun, which had been launched two years previously.
The deal allowed 3sun to diversify into the renewable energy industry, expand its offering and target new markets.
Dawson was set up in 2001 and has worked on the construction of many major windfarm projects in the UK, both onshore and offshore.
It employed 70 people at the time of the acquisition and this brought 3sun's total employee numbers at the time to 90.
The deal also led to the formation of 3sun Group.
Graham Hacon, 3sun Group's managing director, said: "Acquiring Dawson Energy allowed us to diversify into the renewable energy industry. It was a great move for us. It has helped take 3sun's start-up turnover of £1.5million to £12million in just four years and we are targeting a further increase to £15million for 2012.
"The acquisition was a crucial step in increasing 3sun's work in the renewables sector, an area which complemented the company's existing skill set in the oil and gas industry. We aim to grow over the next five years, and become classed as an industry leader in the energy sector as a whole.
"Diversifying into renewables through Dawson was a strategic move – it is a young promising industry and we understood that the existing skill-set of 3sun would be beneficial to Dawson, its clients and the renewable industry as a whole. In turn, the capability of the Dawson team enhanced the available skill-set of 3sun, presenting the opportunity and aptitude for further growth and development and ability to tender for larger contracts."
3sun Group now operates from five European bases and employs 175.
The group is headquartered in Yarmouth and also has bases in Aberdeen, Lowestoft, Oban and Bergen in Norway.
Recommended for you

Scotland does not need more press releases but we do need a plan