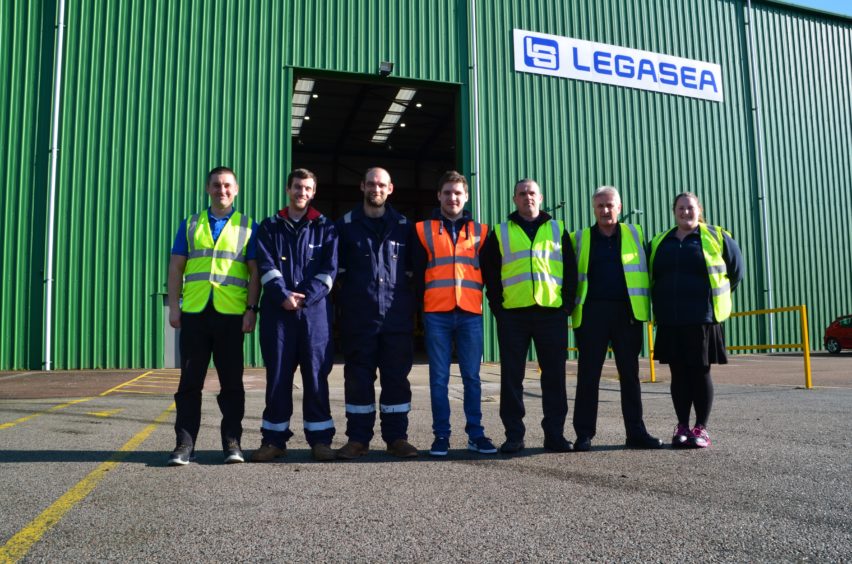 New jobs are on the cards as an Aberdeenshire subsea equipment firm looks to international expansion, despite the Covid-19 pandemic.
Legasea, which launched last year, is aiming to increase headcount by up to 10 roles as it expands into new markets over the next 12 months.
The Echt-based business said it comes after delivering "a variety of projects for operators and oil and gas service companies", completed prior to the virus outbreak.
Legasea recovering decommissioned parts from subsea production systems and makes them fit for use once more.
The expansion plans follow support from the Scottish Government-backed Business Gateway, which provided targeted advice for the firm in its first year in business, which led to grants from Aberdeenshire Council.
Operations director Ray Milne said: "The ongoing support from the Business Gateway team has been excellent, with recommendations gladly received on how to prepare the business for future growth, both locally and internationally.
"Throughout the lockdown, we have been working hard to put things in place so that we can continue to support our clients and deliver projects when we are back on site.
"There has been a sustained level of commercial interest from companies who want to work with us when COVID-19 passes and this makes us confident that – despite the challenging situation, Legasea is still on a growth trajectory."
Mr Milne founded Legasea along with managing director Lewis Sim in April last year, both of whom worked for Dril-Quip at different times in their careers.
While many oil firms melt down and recycle the steel from old equipment as something completely new, Legasea looks to harvest and polish up a variety of subsea components, including electrical connectors, hydraulic couplings and sensors.
The goal is to help companies looking quickly for parts which are no longer widely available.
Business Gateway also supported Legasea with digital marketing tools.
John MacGillivray, business adviser at Business Gateway Aberdeen City & Shire, said: "It is excellent to see how Legasea has grown from strength to strength over the course of the last year and developed a strong track record for successfully delivering complex projects for clients.
"This has ensured the company is in a strong position for growth, despite the current challenges posed by COVID-19."
Recommended for you

Kintore subsea firm to expand following more than £1m in contract wins