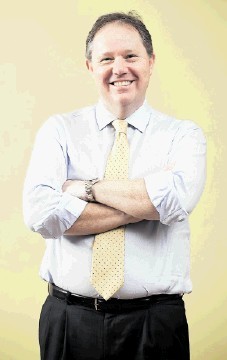 Africa and the Middle East are the two primary targets for Dana Petroleum as it seeks to further internationalise it's still-North Sea-centric business.
In an exclusive briefing to Energy, group CEO Marcus Richards said Dana had the luxury of being able to plan five years ahead under the ownership of Korea National Oil Corporation compared to the old position of virtually living from quarter to quarter as a London-listed firm.
"Over past months we've devoted a lot of effort, putting together a five-year plan for each of our businesses with very clear boundaries about living within our means," said Richards.
"It is about using operating cash to invest in existing businesses . . . Egypt, Norway, Netherlands and the UK."
"We also have a debt facility arranged with banks . . . that's for growing the business from an acquisitions perspective."
Richards said the change of approach means Dana management can take a sustained approach to core North Sea business, including The Netherlands which is mature and Norway where the plan is to drill four exploration wells next year.
Turning to the Middle East, he said Egypt provided a "great position" from which to grow Dana's business and influence in the region.
The changes under KNOC ownership also meant a more strategic approach will now be taken to new provinces and especially West and North Africa. Instead of just surveying, drilling a well or two and apparently little else, as happened in Mauritania some years ago, there would be a strategic approach to evaluating, probing and testing new plays with hydrocarbons potential.
"Having reviewed our exploration, we've decided that we need to improve . . . 3D seismic, access to data and also increase our testing of play fairways. It's about creative, integrated thinking, deepening understanding of what we have," said Richards.
"In Mauritania, we're looking at a portfolio of opportunities. We're shooting 3D seismic and, in 2013-15, looking to test play fairways. It's about taking the long-term view and not drilling just one well and moving on."
The presumption is that a well failure will no longer be regarded as a good reason to back off.
Dana has just experienced such a failure offshore Guinea where it is the minority stakeholder in acreage operated and just drilled by Hyperdynamics.
Mid-February saw the Houston company disclose that the Sabu-1 exploration well was a dud; there were only residual oil shows. Data from the well is now being integrated with fresh 3D seismic prior to further evaluation of prospects on the licence.
The original plan calling for the drilling of a second well, Baraka-1, immediately after Sabu-1 has been put on hold.
"We are looking at Senegal, Cameroon, with ongoing negotiations that we hope will be successful," said Richards.
"While its very early stage, we're also looking at the African Rift; examining opportunities, looking at the nature of the contracts and possible partners.
Offshore East Africa remains of interest despite exploration drilling and partner setbacks in Kenyan waters in 2007. It is helped by KNOC having an involvement in the region prior to buying Dana.
And North Africa?
"We have started discussions but that's all I can say at this point. It could mean Libya, Algeria, Tunisia," disclosed Richards. "We're interested in opportunities that include reactivation of oil fields."
Back to Egypt where Dana has Nile Delta deepwater leases at West Burullus and West Manzala, also others in Gulf of Suez and onshore, Richards said the company planned further deepwater wells plus it was interested in prospecting western Egypt.
"We have an active development and production programme, including our very successful relationship with Apache in the western part of the country and Gulf of Suez beat its targets last year."
The company has also forged a new JV with Egyptian General Petroleum Corporation. Petro Kareem's purpose is to produce oil and gas from a Gulf of Suez concession. Egypt production currently accounts for 15% of annual output and the target in five years is to at least double the Egyptian contribution to the grand plan of getting the company past the 100,000 barrels oil equivalent per day medium-term production target.
Elsewhere in the Middle East, Richards has his eye on capturing small to medium-sized field rehabilitation opportunities via PSAs (production sharing agreements).
"A focus that we're particularly interested in is field reactivation and redevelopment because, if you apply good reservoir management, great drilling technology, great workover technology and have the opportunity to grow production in a PSA environment, you can be very successful in this sort of work."