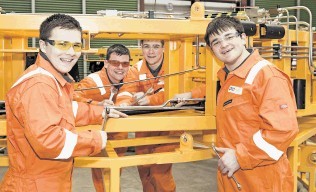 Proserv, a specialist in energy production technology services, launched its new subsea test and assembly centre near Echt, in Aberdeenshire, yesterday.
The ceremony was carried out by First Minister Alex Salmond.
The site, which is more than 27,500 square feet, is the second building Proserv occupies at the Birchmoss business complex.
Mr Salmond also presented the first apprentices to undergo Proserv's customised subsea-equipment service technician course with certificates of achievement. He said: "I am thrilled to officially open the magnificent new test and assembly facilities of Proserv; a company with a truly global profile.
"In the last 35 years, Proserv has been at the forefront of the energy industry, demonstrating an expertise in subsea technology that is a great example of how the knowledge that exists in Scotland can be exported around the world to massive success.
"Over that period, Proserv has grown to now employ over 800 people in 21 sites across 10 countries, and the highly impressive new facilities being opened today will allow the company to build on this growth and look forward to a bright future."
Proserv chief executive David Lamont said: "Due to increasing international demand for our technology and services, combined with our ambitious vision for growth, the new Birchmoss facility strongly positions Proserv for future accelerated expansion and signifies its increase in capabilities and expertise, particularly in the drilling, production, subsea and decommissioning sectors.
"The new employment opportunities and our tailor-made apprentice training scheme also underlines our commitment to investing in people and their development. With more than 250 people employed in the Aberdeen area, including 60 at our new facility, we anticipate recruiting between 30 to 40 people in the region over the next six months and up to 50 this year – particularly engineers to manage our order pipeline and projected workload and adding to our project management team. The majority of all new recruits will be based at Birchmoss."
Subsea UK chief executive Neil Gordon said: "This is a significant new facility which, through combining the realm of testing, developing and maintenance under one roof, has the real potential to re-affirm the UK's world-leading position in the subsea industry. I also hope that it helps inspire a new generation of young people to join one of the most dynamic, technology-driven industries in the world."
Earlier this year, Westhill-based Proserv announced that it expected to create more than 130 new employment opportunities after reporting a 17% increase in annual turnover to £113million.