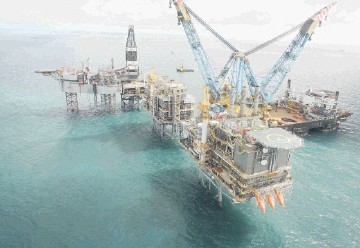 When Archie Kennedy left his roles as Conoco-Phillips managing director and joint chairman of industry body Oil and Gas UK in 2009, the plan was to take a year out.
Just five months later he was back in the fray helping Centrica to integrate Venture Production into its business before going on to work with Apache on last year's purchase of ExxonMobil's North Sea assets, including the Beryl field.
Now these companies are effectively the competition because five weeks ago Mr Kennedy joined Nexen as its UK managing director, a role announced publicly yesterday.
He replaces Phil Oldham, who has retired.
For Mr Kennedy, 53, whose career at Conoco-Phillips started in 1979, it is a bit like going back in time. Nexen has in its portfolio one of the biggest oil producing fields in the UK North Sea, Buzzard, it is developing the £2billion Golden Eagle project and eyeing 27th licensing round exploration opportunities.
He said: "Within Nexen, it feels remarkably like the early 1980s because we are creating that environment. Nexen has a big commitment to the North Sea. It is a huge business, the second largest oil producer in the UK and we are investing in new projects.
"Oil and Gas UK talks about more than 20billion barrels out still there; a big part of the attraction to join Nexen was being with a company gearing up to win some of that.
"We are exploring (North Uist with BP and the Stingray and Bardolph prospects in blocks 15 and 20); we have got drilling rigs as we speak and we are talking about the 27th licensing round where we are going to be very active."
However, looking overall at the North Sea, he said that, while there was a lot of activity, the basin was not as active as it should be, given the oil price.
Some of this is because of the fiscal instability promoted by last year's Budget, according to Mr Kennedy, who helped to form OGUK out of the UK Offshore Operators' Association (UKOOA).
Edinburgh-born Mr Kennedy started his career in the North Sea, having studied engineering at Manchester University.
He joined Conoco-Phillips straight out of university and worked his way up to supervisory roles, going offshore, becoming an installation manager and then getting involved in the sale of Hutton and Murchison as asset manager.
His career then took him to Houston, Lafayette, where he worked in the Gulf of Mexico, and Canada, before he moved back to Scotland in 2004 to be the firm's UK managing director, enabling his son and daughter to have a more fixed education.
"It was like coming full circle," he said. "It was a really great challenge to be offered. At that time, we were still exploring (in the North Sea) and discovered Jasmine. It was still busy."
But, although the family home is now settled in Aberdeen, Mr Kennedy is still a keen traveller; a passion which saw him working in the warehouse of a Swedish clothing manufacturer straight out of school to fund a tour of Europe.
At college he went farther afield, exploring Asia and the Far East. He said: "I quite fell in love with the Far East. Thailand, Sri Lanka, the Philippines, Hong Kong, Burma."
He even met his wife, trained architect Jane, on holiday in Greece.
Now the Kennedys and their son and daughter all travel together and recently enjoyed a trip to the Atlas mountains in Morocco, which is on Mr Kennedy's list of favourite places.
He wants to travel more but he also wants to grow Nexen. "It is already a big business, if we can grow it over the next few year into a real legacy business, that would be something I'd be keen to be part of."
The firm is developing its hubs, Scott/Telford and Ettrick, which is due to see the Blackbird field tied in. While Golden Eagle is not due on stream until 2014, Nexen is already looking at prospects in the area to tie in. It is also working on production issues at Buzzard, created by a complexity of issues in a field which gets the full focus of the market because of its size. Mr Kennedy hopes hydrogen sulphide release issues on the platform, one of the problems affecting production, are now behind them.
Recommended for you

Firm seeks to sell North Sea discoveries 'left behind' by ConocoPhillips