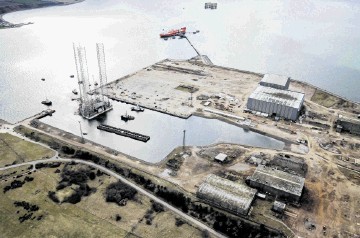 The first oil rig to receive a refit at Nigg for nine years has arrived at Global Energy Group's Easter Ross harbour.
More than 250 people will work on the Transocean Galaxy I at the Nigg Energy Park over the next three months before it goes back to work in the North Sea. It comes after Global acquired Nigg from US company KBR and the Wakelyn Trust last year in a deal understood to be worth £10million-plus.
The 238-acre complex on the Cromarty Firth closed in 2000, but Global will spend nearly £10million refitting it between now and 2016.
In its heyday, the yard employed 5,000 and more than 2,000 jobs are expected to be created between now and 2015. Global chairman Roy MacGregor said the harbour would become a dry dock for some of the work.
He said: "We are delighted Transocean decided to use Nigg for this major refit for the Galaxy I and this is business that would otherwise have been lost to this area.
"This contract demonstrates the importance of the Nigg Energy Park dry dock facility in contracts of this nature where the requirements are for both dry and wet use within the extensive scope of work.
"This is the first example of new work coming into the Cromarty Firth and Nigg Harbour, as we continue to work hard to promote this world-class facility to the energy industry."
Once the refit is complete, the Galaxy I will be put to use by Nexen to support its Buzzard platform, initially providing accommodation.