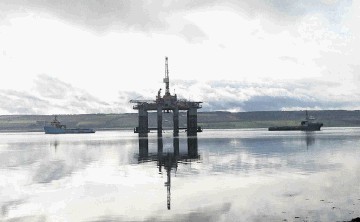 An oil rig that has operated in the Falklands for two years is now back in the Cromarty Firth, from where it set off on its long voyage to the south Atlantic.
The Ocean Guardian left Cromarty Firth Port (CFP) at Invergordon in 2009.
Its return journey began from the North Falkland Basin on January 8, 2012, and now – just over two months later – it is anchored in the firth awaiting a lengthy refit.
CFP bosses said its return to the 30-acre site in the Cromarty Firth "recognises and takes advantage of one of Scotland's finest natural and engineering resources".
It was also a sign of commitment to the port by rig operators, they added.
CFP Authority said the port had never been busier, adding: "The Ocean Guardian marks the fifth rig movement within the Cromarty Firth in the last two weeks alone.
"With the Transocean Prospect expected to come alongside by the end of the month, rig work is set to continue to be a key activity for the service base throughout 2012 and beyond."
Ken Gray, the port authority's chief executive, added: "The return of the Ocean Guardian to the Cromarty Firth demonstrates the expertise available and should support in the region of 300 local jobs during its stay.
"Inspection, repair and maintenance has always been a major focus for the Cromarty Firth, which offers some of the deepest water in northern mainland Scotland and the necessary skilled workforce."
The port operator has invested more than £4million in its Invergordon service base over four years to improve security, fencing, roads, hard-standing, lighting, car parking and storage.
Ocean Guardian, owned by Diamond Offshore drilling, was used by both Desire Petroleum and Rockhopper Petroleum during its time in the Falklands.
It made headlines last October, when some oil workers had to be taken off after part of it started to sink during a power cut. It is believed the rig got into difficulty when two of its anchors were moved.
Recommended for you

Port of Cromarty Firth £150m expansion to create 'thousands of jobs'