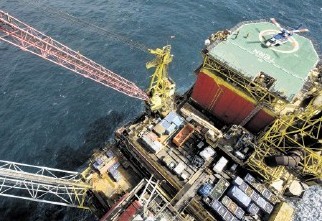 Energy giant Taqa Bratani is under investigation following a major oil spill in the North Sea.
An estimated 23 tonnes of crude – 150 barrels – leaked from the Tern production platform, 64 miles north-east of Shetland.
The spillage, totalling an estimated 7,000 gallons, is the biggest since Shell's huge Gannet Alpha incident last year.
The UK Government's Department for Energy and Climate Change (Decc) is leading the probe, with support from the Health and Safety Executive. A sheen was found on the surface of the water after the incident. Last night Taqa said the leak had been dealt with and that the oil had dispersed naturally in the sea.
Derek Howden, the firm's safety manager, said: "We immediately put into action our response plan which outlines the steps to be taken in the case of any hydrocarbon release.
"In close co-operation with Decc it was agreed that the best action, with the least impact on the environment, was to let the oil disperse naturally rather than using a dispersant. This strategy was successful and the oil has since dispersed. Taqa immediately set up an investigation team to learn the lessons and prevent recurrence."
He said the spill was caused by process problems while cleaning up a new well and was not related to drilling operations. Any spill of more than nine tonnes is classed as a major incident by Decc.
A spokesman for the department said surveillance flights were mobilised by Taqa on Wednesday and Thursday following Tuesday's spill. About 24 hours after the incident, a small oil sheen was spotted near the installation, but rough seas were dispersing it naturally. The spokesman added: "Later surveillance flights found no evidence of this discharge and it is presumed the oil naturally dispersed at sea. Decc has initiated its incident response procedures and made contact with all relevant agencies and is investigating this incident in line with its published enforcement policy."
Stan Blackley, chief executive of Friends of the Earth Scotland, said the spill was "very worrying".
"This significant oil spill happened off the north-east of Shetland just two days before the UK Government gave consent to BP for oil exploration in the deep waters off the north-west of Shetland," he said.
However, industry body Oil and Gas UK said a spill of this size was "unlikely" to have a significant impact.
Recommended for you

Shell abandons push for oil spill case to be heard in Nigeria