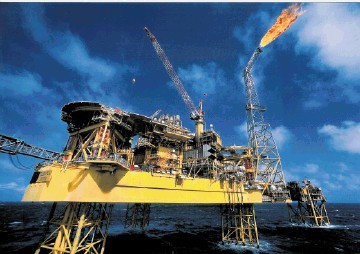 The flare on the oil platform is still burning, it was confirmed last night.
Bosses at Total said it was safer to leave the flare burning than it was to extinguish it as they needed to burn off any residual fuel on the platform.
The flare was last checked at around 4pm yesterday and it was still alight, but Total said it expected the flame to extinguish itself.
Total health, safety and environment manager David Hainsworth said: "We have an ongoing leak that we have to stop.
"The flare is still alight on the main production platform. However, the wind is blowing the gas plume in the opposite direction, away from this flare. We know that the weather forecast is such that the wind direction remains the same for the following five to six days, and we're evaluating options to extinguish this flare." He added that plans would be reassessed if the weather changed.
Jake Molloy, offshore organiser for the RMT union in Aberdeen, said if the gas cloud somehow finds an ignition source "we could be looking at complete destruction".
No lives are currently at risk as the platform and installations have been completely evacuated and two firefighting boats have been sent to watch over the platform as a precaution.
If the gas cloud around Elgin ignited it would likely destroy the platform which could seriously hamper efforts to stop the leak.
Recommended for you

Can oil ever be green? Norway turns to wind-powered drilling