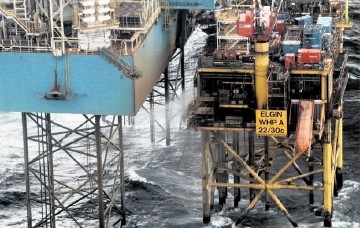 This is the first picture which shows the gas leak on Total's Elgin platform.
Based on the offshore giant's own estimates of the speed at which it is escaping, 950 tonnes of highly flammable hydrocarbons had sprayed into the atmosphere by midnight last night. It emerged yesterday that work to seal the well at the centre of the crisis first began at the end of February.
Gas has been leaking since Sunday, when 238 staff were evacuated from the Elgin installation 150 miles east of Aberdeen.
Yesterday, Total's UK boss said "abnormal pressure" had been found in the well on February 25, which led to work starting to try to pack it down with a special type of heavy mud.
It is now known that on Sunday, the well "ruptured" about 13,000ft below the seabed – despite the work to shut it off – sending gas and mud spewing out from the drilling deck of the platform.
A photo taken on Thursday shows the gas and condensate – a petroleum-like substance – still coming out of the wellhead deck.
The Press and Journal revealed yesterday that workers on the platform had raised concerns about pressure "spikes" in the well, but Total had moved to try to allay their worries.
Philippe Guys, the company's managing director, said work was continuing to establish what had ruptured and why, but said there was no sign of human error or issues with the control systems on the platform.
"There was a failure in the well itself," he said.
He added that it was now thought that the gas came from an area of rock more than 13,000ft deep above a depleted gas reservoir 18,000ft deep, which had been plugged last year and was being abandoned.
Recommended for you

Supply chain woes push back first gas from Tyra redevelopment