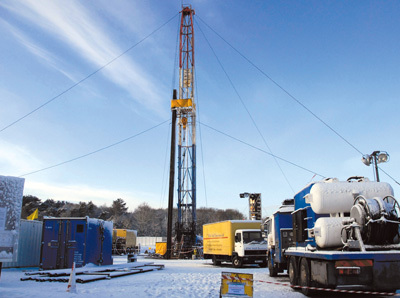 Union Jack Oil has increased its stake in the Biscathorpe onshore prospect after receiving approval from the Oil and gas Authority (OGA).
The additional 3% takes Union Jack's holding to 30% of the prospect in the Humber Basin in Lincolnshire.
Biscathorpe is locared within the PEDL253 licence, which Union Jack describes as "one of the largest conventional un-appraised onshore hydrocarbon prospects in the UK".
The value of the acquisition, from Montrose Industries has not been disclosed.
Union Jack Oil executive chairman David Bramhill said: "We are pleased to complete this transaction, following which the Company will hold a meaningful 30% interest in what we consider to be a key, potentially high-impact project within our well balanced portfolio. PEDL253 remains, in the opinion of the Company's management one of the UK`s largest onshore un- appraised conventional licences.
"The joint venture intends to pursue a cost-effective side-track from the existing Biscathorpe-2 well site where the resource potential of the Basal Westphalian sandstone will be tested, and also the appraisal of the oil column demonstrated to be present in the deeper Dinantian Carbonate reservoir.
"I look forward to updating shareholders once all technical and operational plans are finalised by the joint venture partners during H2 2020."