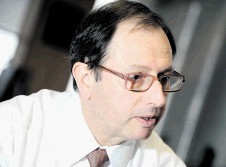 The UK Government is losing around £2.5million per day in tax revenues because of the gas leak on Total's stricken Elgin platform, according to an analyst.
Jim Hannon, founding partner of Hannon Westwood, said the Treasury was "the biggest loser" after the production shutdown at the platform, 150 miles off Aberdeen.
In an exclusive interview with the Press and Journal earlier this week, Total's UK managing director Philippe Guys said the company was losing nearly £1million a day in revenue and planned to plug the leak by the end of this month.
By then, the Government would have already lost more than £75million in tax.
The Elgin installation was producing around 120,000 barrels of oil equivalent before the leak started, and the government had been taking 62% of the profits.
More than half of the hydrocarbons being produced were condensate, a super-light and highly-prized oil.
Mr Hannon said that although Total and its partners were losing out on huge profits every day, the government was the worst-affected.
He said: "The Government is now the biggest player in every producing field, so it is being hurt the most by this."
Mr Hannon said that although the Elgin platform was currently shut down, the Treasury's overall tax take would not change because there were still millions of barrels of oil equivalent to be recovered from the field when operations resume.
He said: "This is money the Treasury is losing out on in this tax year – they will receive their share at some point when the field comes back on stream.
"Some of the reserves would have been lost because of the gas blowout, but I do not think that would have had a significant effect (on the recoverable barrels of hydrocarbons)."
"It equates to $1.5billion (£943million) per year in deferred tax so the Government wants the field back on stream just as much as the operators, not just because of the money but also because of the attention on offshore safety."
A Treasury spokesman said the government department would not comment on speculation or figures from other organ-isations.
Recommended for you

Upstream oil and gas M&A opportunities in Indonesia for 2023