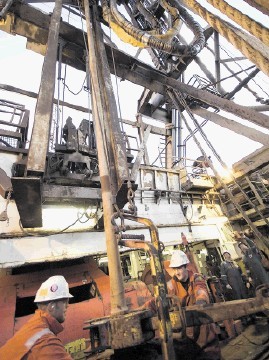 North Sea explorer Antrim Energy said yesterday it was preparing a field-development plan (FDP) for the Fyne discovery, with first oil targeted for late 2014.
The Canadian firm also said it anticipated regaining operatorship in the UK central North Sea licence from Premier Oil UK at no cost.
Premier said last month that potential developments in the Greater Fyne area did not meet its economic thresholds.
A recent East Fyne appraisal well drilled by the Sedco 704 rig found oil and gas-bearing sands, but Premier said the thickness of the oil-bearing sand had been at the lower end of a pre-drill estimate.
Antrim says there is a 54.9million-barrel resource identified on the Greater Fyne prospects.
The firm has a 35.1% stake in the Fyne licence, Premier has 39.9% and First Oil has 25%.
The FDP is to contain an updated reserve estimate, production profile and details of the production infrastructure. Antrim said it was expecting to use a small floating-spar system. Atkins Oil and Gas is completing a concept study.
Antrim added: "The production facility will be designed to handle gross peak production of approximately 15,000 barrels of oil per day.
"The Fyne development is expected to be phased to minimise initial capital expenditures and allow early production revenue to fund additional development, including water injection and additional producing wells.
"This is similar to the approach being used by Antrim and partners to develop the Causeway field in the northern North Sea (Antrim working interest 35.5%). The first phase of the Fyne development is expected to include the re-completion of the existing wells in north-west and Central Fyne for production.
"Both wells are expected to be equipped with electrical submersible pumps to maximise delivery in the initial production period. If approved, fabrication of the spar would begin in 2013. The facility would be designed to be re-usable, minimising future modifications required for redeployment to other fields in the Greater Fyne area or to similar small fields in the UK North Sea."