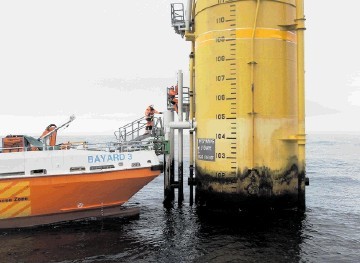 Northumbrian company OSBIT Power has been awarded a £615,000 grant by the Department of Energy & Climate Change to help develop its MaXccess offshore wind access technology.
Its purpose is to enable the safe transfer of personnel from the larger dynamically-positioned vessels that are expected to play a key role in the future of maritime renewables to wind turbines.
According to OSBIT, the trials offshore Norway using a 20m Fred Olsen catamaran workboat and Statoil's experimental Hywind turbine were a success.
Personnel were able to move from boat to turbine and back again in conditions ranging from 1.2m up to 1.9m significant wave height . . . basically light-to-moderate seas.
During the nine days of offshore operations, over 100 connections were made, with MaXccess being clamped to the turbine buffer tube for over 12 hours in total, during which time 36 personnel transfers were made.
Dr Tony Trapp, CEO of OSBIT Power, said of the project to date: "We established OP in 2010 with the aim of creating a step change in offshore access technologies.
"During the subsequent 18 months our team of innovative engineers developed the MaXccess 11 system to solve the current challenge of gaining safer, more weather tolerant, access from the existing fleet of vessels used to access wind turbines.
"Following a rapid development programme, the first MaXccess 11 system was produced in summer 2011.
This system has been successfully trialled offshore in Norway in conjunction with Siemens Wind Power and Statoil, proving its ability to provide safer, more weather tolerant access."
However, he warned that, for future offshore wind projects larger vessels will be needed, operating farther from shore, in more difficult sea conditions.
To meet the challenge of gaining access to turbines from these vessels, OP is developing MaXccess – Heavy Boat System (HBS).
It builds on the technology developed in the current MaXccess system, to allow operation from dynamically-positioned vessels that are too large to contact turbines directly."
The funding award is being made under DECC and the Technology Strategy Board's Offshore Wind Component Technologies Development and Demonstration Scheme.
This aims to support innovative companies to develop and demonstrate novel technologies that will lead to cost reduction in offshore wind energy, and increase deployment levels by 2020, and in the following decade.
Trapp, who has a distinguished career in subsea oil and gas-related engineering and, increasingly, renewables, added: "There is a clear need to reduce costs and increase safety in offshore wind. We are delighted with the award of funding from the Offshore Wind Development and Demonstration scheme, which recognises both the innovative abilities of OP, and the need to develop access technology to meet the accessibility challenges that will be faced in future projects."
Thus far, UK wind farms have been mostly sited on shallow sandbanks.
However, such locations can suffer from extreme local sea and tidal conditions because of the often complex seabed topography.
This results in severe, short and dangerous seas and is the reason why UK Round One project turbines can present significant access challenges.
Wave data that is representative of UK offshore windfarm sites shows that access using a standard boat and ladder principle (significant wave heights up to 1.5m) is generally possible for around 80% of the available time.
However it is said that this accessibility rate is too low for good overall windfarm availability. In winter, accessibility is typically worst when there is the greatest likelihood of turbine failures; yet at these times there are higher winds and hence potentially higher levels of production loss.
Research has suggested that accessibility can be improved to above 90% if access is made possible in significant wave heights between 2.0m and 2.5m.
But it is admitted that providing access in yet more extreme conditions is probably too challenging considering cost, technical difficulty and safety.
A safety limit on sea conditions has to be set and rigidly adhered to by the windfarm operator.
Purpose-built aluminium catamaran workboats are currently in use for several windfarms. It is claimed that catamarans generally provide safe access in sea conditions with a maximum significant wave height up to 1.5m. On occasion this figure has been exceeded by skippers experienced in offshore wind transfers on a particular site.
Research has demonstrated that standard boat and ladder access principle is practicable for around 50-80% of the available service time, depending on the site.