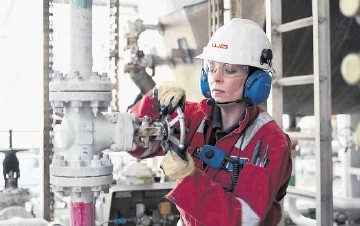 Scottish oil and gas service firms have increased exports to £7.6billion, a new report said yesterday.
The Scottish Council for Development and Industry (SCDI) said the country's supply chain increased its sales overseas by 4.5% in 2010 and now accounted for more than 46% of total Scottish supply-chain sales in international markets.
SCDI north-east director Ian Armstrong, said: "While recovery in the world economy continued to be slow in 2010, the rising oil price enabled exploration and production activities to continue across the globe and the Scottish supply chain has been able to maintain growth during this period."
The report, published jointly by SCDI and Scottish Enterprise, said Scottish oil and gas firms exported their services and products to 100 countries.
North America remained the largest market, accounting for more than £2.5billion of the figure. Australasia showed the most growth with sales up 31% at £663million.
Industry leaders said the increased sales reflected the success of Scottish and, in particular, north-east firms which had built up a base of knowledge and skills that were in demand around the world.
David Ripley, supply-chain director at industry body Oil and Gas UK, said: "It is encouraging to see that the high technology Scottish oilfield service companies are not only enabling the recovery of our own oil and gas but exporting their goods and services to overseas markets, boosting the UK's balance of trade. While the Scottish supply chain has achieved record levels of international activity and a greater share of the global oilfield service market we must ensure that it continues to remain anchored in the UK, so that the economic benefits, particularly in north-east Scotland, are maximised."
Subsea UK said a large part of the £7.6billion total could be attributed to subsea firms; more than half of the UK subsea sector's £6billion annual revenue came from international markets. A spokeswoman for the organisation added growth in regions such as west Africa and Brazil would present opportunities for north-east firms because there was a critical mass and centre of subsea excellence in the region.