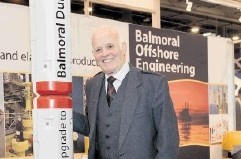 Balmoral Offshore Engineering, the Aberdeen-based deepwater buoyancy, insulation and elastomer product specialist, is planning to add a further 50 people to its workforce after introducing two products to its drill riser buoyancy portfolio at OTC.
Durafloat Superlite and Durafloat Superlite-X are rated to operating depths of 15,000ft, which the firm says is typically 3,000-5,000ft deeper than industry-standard drill riser buoyancy.
The syntactic foams are an extension to the company's Durafloat range and were developed by the technical and engineering teams in Aberdeen as part of a six-figure research and development investment programme.
With the launch of the new materials Balmoral anticipates increased levels of demand for its drilling buoyancy products, creating a potential job boost in Aberdeen of up to 50 people.
A conservative estimate puts the global drill riser buoyancy market in excess of £200million annually. It provides "uplift" by effectively decreasing the submerged weight of the steel riser joints which run between the drilling vessel and the blowout preventer on the seabed. Balmoral's international business-development director, Jim Hamilton, said: "Deepwater buoyancy modules are also substantial in size and weight and are susceptible to damage caused by vessel motion and strong ocean currents.
"That's why we had to look at the development of a lower-density, lighter-weight material that would operate successfully beyond the 12,000ft previously offered. It was stressed in the design brief, however, that the new system should not incur a cost penalty and I'm delighted to say that this has been achieved."
Balmoral's technical and engineering teams were tasked with developing the lighter syntactic material for use at operational extremes of 15,000ft.
Balmoral chairman and managing director Jim Milne, who is attending his 37th OTC, added: "We are proud to offer clients real solutions to their challenges. Our commitment to research is second to none and has helped us become the drilling industry's buoyancy manufacturer of choice."
Balmoral Offshore Engineering is a division of Balmoral Group Holdings.