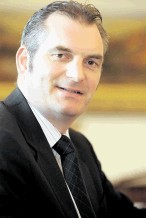 Among OTC regulars from Scotland is Jock Gardiner, energy industry partner at Maven Capital Partners, who is now on his 14th trip to the show.
He said: "Coming to OTC regularly is part of Maven's strategy to keep in touch with the technology developments in the energy service sector.
"It gives a chance for face-to-face meetings this week with new companies; some of which could become potential new investments for us."
Mr Gardiner is also taking the opportunity to meet executives of several larger Houston-based oil service companies during OTC week, as the buoyant nature of the industry has these organisations showing an active interest in the performance of Maven's portfolio of investments.
The seeds of future acquisitions and strategic alliances between US and UK-based companies are being sown during the show, according to Ernst and Young. Analysts from the professional service firm have pointed to recent deals in which US companies have strengthened their position in the oil and gas sector by benefiting from the world-leading technologies and service capabilities, many of which were pioneered in the north-east.
Meanwhile, Ian Knott, associate director of corporate finance at KPMG in Aberdeen, said: "Currently companies in Aberdeen and the north-east are very attractive to large US operators with an appetite for international expansion.
"There are companies in the region which are regarded as technological leaders in the offshore sector and possess worldwide sales and presence – both great attributes to have when looking to secure a foreign buyer as an exit strategy.
"The US onshore market has seen significant growth in recent years from shale gas development but some companies are now re-focusing attention on offshore opportunities. Many of these companies view Aberdeen as a safe, ideal location to make an international acquisition."