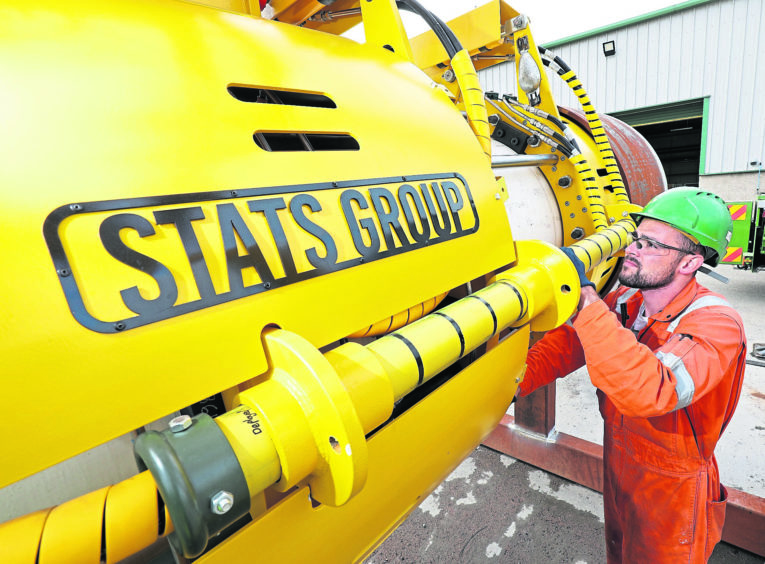 Pipeline technology specialist Stats (UK) yesterday reported lower profits, but also diversification and internationalisation success.
Pre-tax profits for 2019 came in at £200,000, compared to £2.5 million in 2018, while earnings before interest, taxes, depreciation and amortisation fell to £5.6m from £7.6m.
While revenue dropped by 10% in the latest period, to £39.1m, the north-east firm's latest accounts noted that a contract for a major Abu Dhabi client – its biggest to date – had made a significant contribution to the 2018 results.
Despite the impact of the Covid-19 pandemic and a sharp fall in oil prices earlier this year, Stats said it was confident its 2020 performance and activity levels would be broadly consistent with those of last year.
Based in Kintore, Aberdeenshire, Stats' principal activity is the provision of pressurised pipeline isolation, hot tapping and plugging services to the global oil, gas and petrochemical industries.
The firm said its success in recent years of internationalising its business had continued during 2019, with 85% of revenue derived from projects outside of the UK – a rise of 5% on 2018.
Milestone achievements for the firm last year included increasing its market presence in the US, where revenue grew by 176%, completing a major isolation campaign in Malaysia, and progress on long-term contracts in the Norwegian North Sea and Nigeria.
Stats said diversification away from a rental-only model of its patented isolation tools to include product sales had found particular success in Canada and the Middle East, while there was strong demand for the group's mechanical pipe connectors in the UK oil and gas sector.
Group chief executive Leigh Howarth said: "As Covid-19 evolved into a global pandemic during the early part of 2020, this had an impact on our trading performance.
"Not surprisingly, several significant contracts which had been a long time in planning were postponed by our clients until later this year or 2021, but on the positive side there is a healthy programme of work ahead of us.
"The response from our staff across all our global locations in dealing with the changed environment was outstanding.
"The introduction of new working practices has allowed us to continue delivering our services and, encouragingly, secure new work.
"As a result, and notwithstanding the impact of Covid-19 and the resulting lower demand for oil and the subsequent drop in price, we are optimistic that activity levels in 2020 will be broadly consistent with those of 2019."
The company employs 265 globally, including 150 in Kintore.
Recommended for you

Aberdeenshire-based STATS Group appoints new director