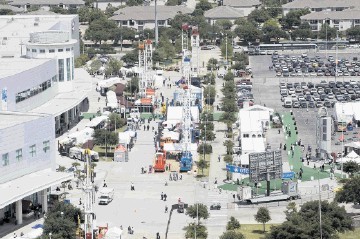 There was another huge turnout for the world's top oil and gas show, which drew to a close in Houston in the US yesterday.
More than 80,000 people attended the four-day Offshore Technology Conference – around 2,000 ahead of the 2011 tally.
This week's figure was the second biggest in the history of the annual Texan show, topped only by the 1982 gathering which attracted 108,000.
Founded in 1969, OTC attracts 2,000 exhibiting companies representing more than 110 countries.
More than 300 people were on the regular trip organised by Munro's Travel Group, of Aberdeen, and the Press and Journal.
Scottish delegates reported another successful show, having made numerous new contacts and touched base with many existing clients.
Rob O'Neill, the sales director for integrated drilling-waste and environmental service company TWMA, said: "Having recently opened our new manufacturing facility in Houston to service our ongoing contracts in the Americas, OTC has been a hugely successful event for us."
Steve Nicol, chief executive of technology specialist Red Spider, said: "There has been a positive vibe at the conference and the company has definitely benefited from attending."
Keith Wallace, chief operating officer at EPC Offshore, said: "There is nowhere else like OTC where you have the world's industry under one roof.
"It has been a hugely successful show for us, with a number of contacts made and potential business opportunities to develop."
Douglas Craig, chairman and managing director of Craig Group, said: "It's been an excellent show and we've seen strong international opportunities, particularly from Brazil, Mexico and the US."
Gary Wilson, business-development director at Ferguson Modular, said: "The event was very busy this year and we are pleased to have made many new contacts, which we hope could lead to potential future work for the company."
Jim Milne, chairman of Balmoral Group, said: "Once again, OTC has proven to be the number one event for the energy industry worldwide. The aisles were full of activity and our team has been incredibly busy."
Churchill Drilling Tools director Mike Churchill said: "This has been an extremely positive experience for us and we have seen a significantly higher level of interest in our company and products over previous years.
"Attending OTC has opened up several potential business leads."
Howard Woodcock, CEO at Bibby Offshore, said: "Exhibiting at OTC this year has been highly beneficial. We had a regular flow of visitors."
Murray Burnett, managing partner at Munro's, said: "It has been a fantastic show once again, exceeding all expectations in terms of the diverse mix of north-east companies represented and the numbers attending. We have been taking people to OTC for more than 35 years and it remains a key attraction for Scottish oil and gas companies."
Recommended for you

How can Aberdeen ensure its getting the best skills for the energy transition?