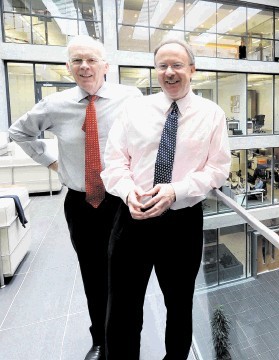 Wood Group has pledged to take a fresh look at its remuneration policy amid growing unrest among shareholders at other UK firms over bosses' pay and bonuses.
John Morgan, who stepped down from the board and also from his role as remuneration committee chairman at the end of the energy service giant's annual meeting yesterday, said the Aberdeen firm was looking to "redefine" the policy.
Wood Group's pay and bonus awards to its senior management was voted through without protest, but Mr Morgan said the company was taking heed of what was happening elsewhere.
A so-called "shareholder spring" has seen a backlash over pay and bonuses in recent weeks.
Wood Group's latest annual report revealed a salary package of more than £1million for its chief executive, Allister Langlands, last year. This was compared with £898,000 the year before.
Chairman Sir Ian Wood's 2011 package was worth £555,000, up from £474,000 previously.
The remuneration strategy will be compared with "peer" companies during the course of the current trading year, Mr Morgan told shareholders at yesterday's meeting at Wood Group's Aberdeen headquarters.
He added: "It (the new policy) may not look very different to what we have now, but it is right that we go through this process.
"We should expect to see a different approach to the presentation of remuneration coming through in the annual report next year."
Meanwhile, Wood Group said its current balance sheet was strong and provided a "robust" platform for organic and acquisition-led growth.
An interim management statement from the firm said all divisions were delivering good growth and it was confident of achieving a full-year performance in line with expectations.
Sir Ian told the Press and Journal he expected the company to benefit from buoyant times for the global oil and gas industry, with Mr Langlands adding that Wood group was currently eyeing "three or four attractive plays" on the acquisition front.
Mr Langlands also revealed that a new contract from Daewoo Shipping and Marine Engineering, involving work on a Chevron project in Angola, was worth in the region of £62million.
Recommended for you

Big Oil's big earners: CEO pay ranked