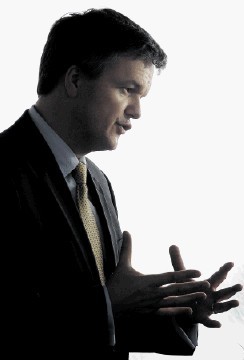 There has been a "step change" in the relationship between the oil and gas industry and government, Scottish Secretary Michael Moore said yesterday.
Visiting oil and gas businesses in Aberdeen he welcomed the results of a survey by Oil & Gas UK, which said confidence was its highest in the sector since the start of 2009.
He was asked if the industry could look forward to fiscal stability following measures to support growth in the industry in the 2012 Budget – following 2011's surprise Budget tax grab.
Mr Moore said: "Decisions on tax are for the chancellor and government each year. The critical thing for us is to make sure there is a good relationship with the sector.
"I think there is a step change here, with the development of the fiscal forum and the idea the industry gets alongside Treasury officials and ministers to look at the tax regime.
"We have had a very encouraging response from the sector. They have welcomed announcements about decommissioning and an intention to work with them on new allowances for brownfield projects, deepwater fields and so on.
"The work on decommissioning is a good sign of long-term thinking. There is scope for further work in other areas as well."
Mr Moore highlighted yesterday opportunities for Scottish firms to export skills gained in the North Sea to South America.
He said the discovery of new oil reserves in Brazil meant Scottish companies could export their knowledge and expertise.
Meanwhile, it emerged during Mr Moore's trip to Aberdeen that subsea installation firm Bibby Offshore will move to bigger premises next April having outgrown its Waterloo Quay base.
The company is also to add a new vessel to its fleet, the Toisa Polaris, which it had agreed to charter for two years just before Christmas. Managing director Fraser Moonie said the growth, which will see staff numbers grow by 70 this year, was on the back of increased activity by North Sea oil firms.
He said: "It is an exciting time for us. The oil companies are doing more.
"Our growth is a mix of new business, but also decommissioning work. After the recent recession, there was a drop but confidence has grown and oil firms are doing more investment.
"The high oil price is having an effect and I would like to think it is also us getting bigger and better as well."
The move next year will see the firm shift from the city centre, but Mr Moonie could not yet say where the new location would be.
The new Bibby Offshore offices would accommodate up to 350 people, he said. The business employs 200 people onshore and 450 people offshore across its offices.
It operates three dive support vessels in the North Sea, where it also charters ships to meet demand.
About 85% of the firm's business is in the North Sea, with the rest out of Singapore and Trinidad, where it also has offices.