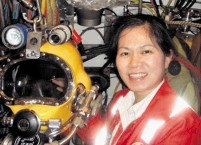 Aberdeen-based Vicky Shu, a lead project engineer at oil and gas firm Shell UK, was among the winners at the Asian Women of Achievement Awards, in London, last night.
Pioneering entrep-reneurs, ground-breaking journalists and leading sportswomen were honoured at the event, attended by guests including awards patron Cherie Blair, Home Secretary Theresa May and Princess Badiya bint el Hassan of Jordan.
Ms Shu, originally from China and one of just two Scottish successes last night, was named businesswoman of the year.
She led the design of a £100million subsea bypass project which supplies 10% of UK gas consumption and has also taken on the challenge on delivering a key piece of equipment for the world's first floating liquefied natural gas project.
In addition, she is involved in programmes to attract engineer graduates into oil and gas and is an active member of the Shell Energie network; visiting universities to encourage young people into the industry.
Glasgow-based Tasmina Ahmed-Sheikh was presented with the Professional of the Year Award for her work as equity partner at Hamilton Burns W.S. Solicitors.