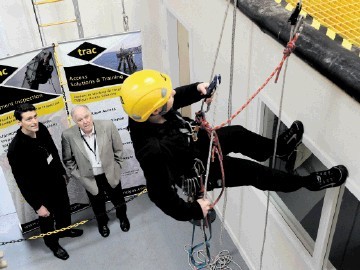 Aberdeen firm Trac Oil and Gas said yesterday its plans for growth at home and abroad were ahead of schedule.
The upbeat report came as it welcomed Aberdeen FC manager Craig Brown to its newly extended premises.
Trac, which provides engineering support for the inspection and maintenance of oil and gas assets, has invested £250,000 in the Dyce site.
Danny Hawthorn, the company's general manager, said the extension was part of plans to double the business over a five-year period.
Mr Hawthorn said Trac turned over £10million in 2009, but that figure had since risen to £15million and the company aimed to hit £20million by 2014.
The firm is part of Wolverhampton-based Trac Group, which was set up in 1999 and also includes businesses focused on engineering, training and telecommunications.
Trac Oil and Gas employs 40 people in Aberdeen and 200 offshore around the world. It recently opened an office in Perth, Western Australia, and there are plans for another in Rio de Janeiro, Brazil, before the year-end.
Mr Hawthorn said: "We are trying to set up regional facilities around the world in the key hotspots which are developing in the energy market right now."
In addition to global expansion, Trac is adding to its services in the UK to take in renewable-energy work.
Mr Hawthorn said: "We are seeing good growth in exploration and decommissioning work but we also now work on offshore wind projects," adding that he was delighted to welcome the Aberdeen FC boss to an open day at the company's headquarters.
"It was a real privilege to have a personality like that come down and speak with us," he said.
Recommended for you

From oil rigs to floating wind – work starts on Ardersier Port transformation