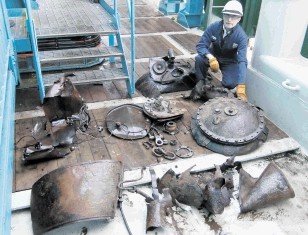 US oil giant Chevron has successfully and safely detonated a World War II mine in the North Sea west of Shetland.
It presented no "immediate" danger to the safety of workers on a nearby drillship but operations on the Aberlour well in the Greater Rosebank area were suspended as a precaution, it emerged yesterday.
Chevron said the mine, believed to be about 70 years old, had been in pristine condition.
It was discovered partially buried under nearly 4,000 feet of water by a remotely operated vehicle (ROV) carrying out a routine seabed survey.
Chevron said drilling, completions and subsea teams immediately put a robust plan into action to deal with the mine, which was about 250ft from the Aberlour appraisal well. Andy Mayeux, drilling and completions manager, added: "The ordinance presented no immediate threat to the safety of people on the drillship or the security of the well, however, as a precaution drilling operations on the Stena Carron drillship were suspended while a full assessment of the situation was completed."
The drillship was asked to move away while teams supported by legal, supply-chain, subsea and drilling specialists plus contractors and an explosives expert, went into action.
Chevron said the multi-discipline team began the process of getting all the necessary permits and procedures in place for the mine to be moved, so that a controlled detonation could take place.
The mine was then rolled into a special net using a ROV and towed by crane away from the drilling area.
Mr Mayeux added: "The controlled detonation of the ordinance was finally conducted by the subsea group and completed incident and injury-free in just a few days.
"This was the deepest water depth of a controlled explosion of an ordinance they had ever done."
Chevron said coastguard and other agencies were informed of what was happening before the controlled explosion, which was heard on the bridge of the ROV more than a mile away.
The incident took place late last year but the details have only just emerged.