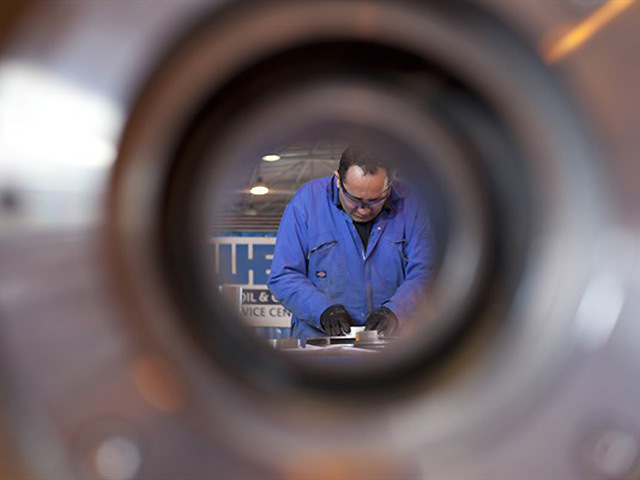 Scottish engineering firm Weir Group has struck a deal to sell its oil and gas division to US construction machinery and equipment giant Caterpillar for £314 million.
Glasgow-headquartered Weir said the agreement was a "major milestone" in its quest to transform itself into a "focused, premium mining technology business".
Shares in Weir had risen 14.81% to £14.69 in London by mid-afternoon.
Weir's oil and gas business produces pumps, parts, and wellhead and pressure control products that are serviced by a global network of service centres.
The division is headquartered in Fort Worth, Texas, and employs about 2,000 people, 50 of whom are based at a service facility in Portlethen, near Aberdeen.
The deal is expected to go through by the end of 2020, subject to shareholder and regulatory approval.
It follows Weir's £900m acquisition of US mining tools firm Esco Corporation in 2018 and the £275m sale of its flow control division to private-equity investment firm First Reserve last year.
Weir, which initially announced its plans to divest its oil and gas business in February 2020, said the agreement with Caterpillar would be a "strong outcome for all stakeholders".
It said the sale would strengthen its balance sheet and provide more flexibility for investing in "future growth opportunities".
The transaction is expected to result in a £54m tax benefit for Weir in the US.
Led by Paul Coppinger, the oil and gas division recorded operating profits of £36.4m last year, but made losses of £4.4m in the first half of 2020.
At the end of June, it had net assets of £542.9m.
Weir Group chief executive Jon Stanton said Caterpillar would be a "great home" for the division and that the deal "maximised value" for stakeholders.
Mr Stanton added: "Weir is ideally positioned to benefit from long-term structural demographic trends and climate change actions which will increase demand for essential metals that must also be produced more sustainably and efficiently.
"This will require the innovative engineering and close customer partnerships that define Weir, and it is why we are so excited about the future."
Joe Creed, vice president of Caterpillar's oil and gas and marine division, said combining Weir's oil and gas business with Cat's engines and transmissions would create "one of the broadest product lines in the well service industry".
Founded in 1925, Caterpillar is headquartered in Deerfield, Illinois, and employed more than 100,000 people at the end of last year.
It makes construction and mining equipment, diesel and natural gas engines, industrial gas turbines and diesel-electric locomotives – and notched up sales of £41.4 billion in 2019.