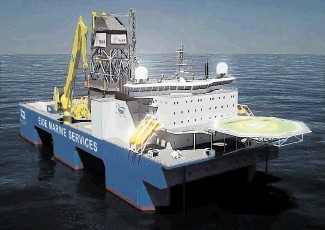 Statoil is pouring an estimated $1.56billion into chartering three light well intervention (LWI) vessels from Island Offshore Management and Eide Marine Services for services aimed at increasing recovery from approximately 500 Statoil-operated subsea wells on the Norwegian Continental Shelf.
The charters are the latest step in a major push by Statoil to maximise recovery of oil and gas from the Norwegian Continental Shelf, the company having already committed to new drilling rigs specifically geared up to this objective.
The so-called Category A vessels chartered are purpose-built and used for performing LWI in addition to well operations and maintenance without a riser-based system.
According to Statoil, the use of such vessels instead of a conventional rig can reduce well intervention costs by some 60%.
Island Offshore vessels Island Frontier and Island Wellserver, which are already contracted to Statoil, have been awarded new five-year contracts.
Eide Well Intervention, a new supplier in this segment for Statoil, has been awarded an eight-year contract for its new-build, which employs a completely new technology. Eide has two innovative vessels on order; each with a deadweight of 31,000 tons and measuring 122m length by 45m breadth. Both units are due for delivery by the Rauma shipyard (STX Finland) in March and June 2013.
The contracts with both companies come into effect in the spring of 2015, and include two options to extend for another two years.
The rig market on the NCS is characterised by an ageing rig fleet, and it is necessary to ensure sufficient and adequate rig capacity at sustainable rates, according to Statoil, hence the decision to strengthen its use of LWI tonnage.
The company has championed the use of riserless well intervention in subsea wells since 2000 and worked very closely with Island Offshore to develop that company's growing LWI fleet.
The contracts awarded mean that the Category A vessels will perform services for Statoil and its partners on the Asgard, Norne, Gullfaks, Oseberg, Heidrun, Snohvit, Tyrihans, Tordis/Vigdis, Snorre, Statfjord, and Sleipner fields.