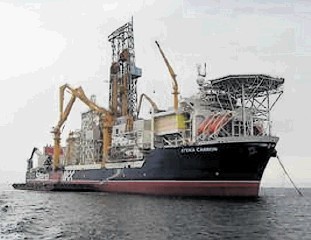 In UK waters, 10 mobile units are currently employed on E&A drilling operations. Exploration wells, including a single sidetrack, account for three of these while seven appraisal wells including two sidetracks are active. Three spuds – two of which required re-spudding and one a mechanical sidetrack, commenced in May, a dip on April's activity. With completion of operations on MPX's Orlando and BG's Jackdaw appraisal wells, there remains no activity carried over from 2011. So far this year, 17 E&A wells have spudded to date.
On the production/development front, 26 wells across 20 fields – including batch operations – are drilling from 12 mobile rigs and eight platform facilities. A further ten rigs are employed on non-drilling operations including workovers, tiebacks and abandonments. 22 dev/prod well spuds are noted so far this year.
West of Shetland:
One well is active … BP's 213/25c-1 on the North Uist/Cardhu prospect. It is being mechanically sidetracked after 42 days by the Stena Carron drillship.
Northern North Sea: Three rigs are active on appraisal duties . . . Xcite's Bentley 9/3b-7 (Rowan Norway jack-up) continues; Valiant's Tybalt 211/8c-5 (Borgsten Dolphin semi-submersible) is completing operations having delineated that 2010 discovery; while MPX is experiencing rig problems while drilling the Timon (Upper Jurassic) well 211/11b-7, which spudded early May.
Operations were wound up on the operator's troubled Orlando appraisal, 3/3b-13Z, which suspended following a re-drill of the reservoir section and is likely to be re-entered for a further sidetrack.
Central North Sea:
Five wells are ongoing, including two new appraisal starts, each subsequently re-spudded.
They are Nexen's northerly Buzzard 20/1-12A (GSF Arctic III) and Premier's Carnaby 28/9a-5A (Sedco 711) in the Catcher area. Total's Elgin relief well 22/30c-K1 continues and will do so until the plugging operation on the previously leaking G4 well is completed. The Ensco 101 continues on Maersk's Ockley appraisal 30/1d-12 and Galaxy 2 remains active on GDF Suez' 30/13b-10Z Jacqui appraisal.
Nexen's Stingray exploration well 15/13b-11 (GSF Arctic III) was abandoned dry after 24 days.
Sumitomo's Orchid prospect 29/1c-9Z (Sedco 711) was P&A oil and BG's long-running Jackdaw appraisal 30/2a-8Z (Rowan Gorilla 6) was finally P&A after 259 days including six months at total depth. A test was probable though BG has said nothing.
Southern North Sea:
Quiet other than Dana's well 48/1a-6 appraising Platypus (Rotliegendes) continues.
Positive results to date in 2012 on the UKCS appear fewer than those of the comparable period in 2011 and May was decided subdued.
Norway
We can report strong exploration results.
In Norwegian waters, 14 wells have spudded to date this year … 10 exploration and four appraisal, just three spuds behind the UK sector. At month end five wells were active, all but one of which are exploratory.
In the North Sea, three are active; one exploration and two appraisals.
Maersk Gallant continues operations on Statoil's 2/4-21 (King Lear prospect), Songa Delta remains on Suncor's 33/6-3 S appraisal and, most recently, Statoil spudded exploration probe 34/7-35 S with the Ocean Vanguard.
Det norske's Upper Jurassic Storebjørn (exploration) well 7/12-13 S (Maersk Guardian) was abandoned dry on May 18. However Lundin's southern flank Avaldsnes (Johan Sverdrup) appraisal, 16/2-11 (Bredford Dolphin) was P&A oil on 5 May.
Two Norwegian Sea wells are active, both exploratory and spudded early May. Lundin's 6201/11-3 (Cretaceous) on the Albert prospect commenced with Bredford Dolphin, whilst Centrica's Cooper prospect well 6506/11-9 S (Jurassic) is being drilled by West Alpha.
Wintershall's 6407/1-5 S (Borgland Dolphin) which appraised the Middle Jurassic Maria Discovery was P&A oil and gas on May 21.
In the Barents Sea, no E&A drilling operations are currently ongoing.
So far, five out of nine exploration wells completed in 2012 on the NCS have been successful, including Statoil's Havis discovery in the Barents Sea, which should contribute to establishment of a second hub in this northerly province. Success rates, at least on a technical basis, will likely remain buoyant given the relative (to the UKCS) number of tilted fault block yet to see the drill bit.
Simon Robertshaw's column is courtesy of North Sea analysts Hannon Westwood
Recommended for you

Well Slot: Who's drilling in the UK North Sea and Norway?