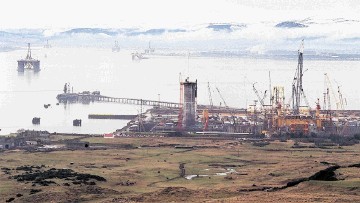 We probably all have hobbies or special interests. My elder daughter often berates me for the amount of time in my life I have spent watching football, either live or on television. Sadly, that must add up to years' despite my being an Inverness Caley Thistle and Scotland supporter.
A special interest of my professional life has long been the oil fabrication industry in Scotland. That dates back to a research project we had at Aberdeen University in the 1970s on the economic impact of the North Sea oil and gas industry on the Scottish economy, which required me to spend time at all the fabrication yards.
Later I did a lot of work for a local authority group (LASCOF) representing the interests of the yards, chaired by former trade unionist Jimmy Gray, now the provost of Inverness, and run by Alan Campbell, ex-Aberdeenshire Council.
In those days we had a lot of fabrication yards . . . Brown and Root at Nigg, McDermott at Ardersier, RGC/Kvaerner at Methil, UIE at Clydebank, concrete yards at Kishorn and Hunterston, plus smaller facilities at Arnish and Burntisland.
At peak activity in the 1970s and 1980s, these yards employed about 20,000 people and made major contributions to the development of the North Sea oil and gas industry.
Most closed years ago when there was a downturn in UK Continental Shelf business and the jobs were lost. The only one which has been active in recent years has been Burntisland Fabrications' facility and that has concentrated on work for the wind industry, plus it has built other structures such as ferry terminal link-spans . . . anything to stay in business.
The virtual disappearance of our fabrication industry has been a big surprise to me because there has still been a lot of work. Most of the platform and module orders during the last decade have gone to overseas yards in Norway, Netherlands, Spain and elsewhere, with some modules being built in England and an occasional chunk of work going BiFab's way.
The volume of work has clearly been much lower than it was in the 70s and 80s but there has been sufficient to keep three or four yards in business rather than just one. The fabrication industry in Scotland undoubtedly over reacted to the downturn.
I am writing this column because there will soon be the first platform to be built in Scotland in about 20 years. Premier Oil has been given government approval for its £550million Solan development.
The platform contract for the 40million barrels development has been secured by BiFab, creating 200 jobs in Methil, where the majority of the work would be carried out.
BiFab has expanded on to what is now known as the Fife Energy Park, the former Kvaerner/RGC yard which has been revitalised by investments from Scottish Enterprise and Fife Council. Work on smaller components will be done at the company's subsidiary at Arnish on Lewis and secure about 45 jobs there.
There are also hopes of restarting fabrication at the former Nigg oil yard which was recently acquired by the Global Energy Group. Indeed, this successful group led by entrepreneur Roy MacGregor has already won a contract to refit a rig in the dry dock there.
Another reason for writing this column is that I am becoming increasingly annoyed by the ludicrous employment claims of the renewable energy industry, particularly wind.
A recent report claimed that the wind industry currently employs 60,000 people in Scotland either directly or indirectly, which is nonsense. The oil and gas industry only employs about 75,000 and it has been established for about 40 years. Scottish Renewables estimates the renewables jobs tally is around 11,000 of which 3,000 are in and around Aberdeen.
There are claims that much of the equipment for the planned offshore windfarms will be manufactured in Scotland but I am very sceptical about that. Virtually all significant equipment for the existing onshore windfarms has been imported.
There are currently a few hundred manufacturing jobs at Burntisland, Arnish and Macrihanish in Argyll. There are plans for a few new facilities but at best they will employ a few thousand people, not anywhere near 60,000 in my view.
If we cannot fabricate platforms and modules for the North Sea oil and gas industry, which has been with us for 40 years, how will we do that for offshore windfarms?
Ludicrous reports and highfaluting claims by politicians will not transform the industry. A little realism might help, of course.
Tony Mackay is the MD of energy economists Mackay Consultants
Recommended for you

Oil and Gas Chaplain Gordon Craig to step down after 11 years of service