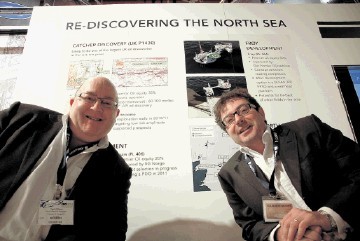 In April this year, Premier Oil was given clearance by the Department of Energy & Climate Change to develop the West of Shetland Solan oilfield.
Solan is significant on two counts . . . it is the smallest standalone yet attempted on the UK Atlantic Frontier and marks the first operatorship for Premier.
It was privately held Chrysaor led by Phil Kirk that initiated Solan. Premier took a 60% stake in the project about a year ago.
Development is apparently now advancing fast. Even though Premier has not operated on the UK Continental Shelf before, it has ample experience as an operator elsewhere.
Key contracts such as development drilling and platform fabrication have been issued. Award of the contract to build a 300,000 barrels capacity subsea storage tank is imminent. The platform – jacket and topsides – went to Burntisland Fabrications in Fife and the Awilco rig WilPhoenix is tasked with development drilling (two producers and two injectors).
"The installation weather window for Solan is very narrow," Premier's CEO Simon Lockett told Energy. "That was one of the drivers behind doing the construction locally. The window is, if we're lucky, about 2.5 months. June, July and August 2014.
"We could have taken the project outside the UK, possibly at lower cost up-front. But we felt that the risk of missing that weather window would be too risky. In the end, we were very pleased that we managed to get the work into a yard that we are comfortable can do the job really well for us."
Field life will be five or six years . . . a short lifespan given the commitment to a platform. However, Lockett and colleague North Sea regional manager Nigel Wilson are confident further business will be found for the structure.
Lockett: "We haven't got anything in our portfolio; nothing on our acreage that I can think of at this time. But there are other discoveries in the area that may present us with opportunities. Strathmore is an example as a portion of that find overlaps the Solan licence area.
"The point is that there will be ullage capacity, probably after about two years. The question becomes how one maintains Solan infrastructure. Are there other things that we can do with our existing field or can we help others get their oil away. I'm sure there are deals to be done but let us get our facility up and running first."
Another sizeable project in Premier's North Sea portfolio is Huntingdon. What sets this one apart from, say, the gestating Greater Catcher Area project, is that the Norwegian company which was to provide the Sevan Voyageur floating production unit (FPSO) went belly up.
Eventually, Canadian company Teekay stepped into the breach, acquiring three of Norwegian company Sevan's production units, plus a majority stake in the company itself. That deal was struck last October, several months after the collapse.
There was speculation at the time that Premier might buy Sevan out of trouble to protect its interest in the Voyageur.
So was it true? Did Premier consider getting out its chequebook?
"We nearly did," said Lockett. "I was telling everybody that we would do it, if we needed to. What we have done over the last six years is make sure that Premier has a strong balance sheet . . . high levels of liquidity so that when we run into problems, we can step in and do something about it.
"When the problems with Sevan came up, we had some very long conversations at board level about whether we would step in or not.
"It would have been the right thing to do and the simple reason is this. Look at the portfolio of projects we have, such as Catcher though we're undecided whether to use an FPSO or not for that. And there are other assets in our portfolio, not necessarily in the UK, where we could deploy FPSO-type technology too.
"Stepping in and salvaging that situation would not have been beyond our capability. If we have to step in and knock hurdles out of the way to achieve what we say we're going to do, then that's what we're going to do, as long as we can see value.
"That said, I'm glad that we didn't have to.
"We spent a lot of time with Teekay . . . in the background . . . to make sure they got across the line."
And so to another current project, Rochelle.
Wilson: "That will come onstream during Q4. The operator is Endeavour, whom we think is doing a good job. They're about to drill the first development well. The subsea kit's going in and, during a shut-down, an upgrade will be carried out on the (host) Scott platform including fitting a new riser, additional metering, that sort of thing.
"Once that's completed the road should be clear for first production before the end of the year. It's all going to schedule."
As for the Greater Catcher Area, where Premier managed to gain a commanding position through its acquisition of EnCore Oil in October last year, both Lockett and Wilson are excited. They have a substantial cluster development in the making, moreover one with possibly considerable upside. Indeed, one of the upside targets, Carnaby is currently being drilled.
Wilson again: "I look at the Greater Catcher Area and think, yes, there's still more exploration potential. We have to obtain deeper data and knowledge to be able to fully exploit that; whereas West of Shetland we're still a long way behind the curve.
I believe that, over the next few years, we could start to think about doing more stuff there . . . West of Shetland . . . and so it could become a place that does compete in our minds for much more future investment. That takes time."
Sadly we've run out of room for further reflections by Lockett and Wilson on the North Sea let alone anywhere else in the world where Premier has a presence.
However, did you know that both are keen football fans? But here's the twist; Locket supports Manchester City while Wilson is an avid fan of Man United (and Aberdeen). One can only conclude that any rivalries are good natured.