The north-east came close to losing out on hundreds of Statoil jobs when the UK Government announced its surprise £10billion tax raid on the industry last year.
The Norwegian operator halted work on its Mariner and Bressay fields after the Treasury increased the supplementary oil and gas tax by 12%.
Statoil put the multibillion-pound developments on ice while it assessed the impact of the levy rise, revealing that not only was its investment at risk but also its plans for an operational base in Aberdeen.
Mariner, which was discovered in 1981, is a heavy-crude field, meaning the oil is more expensive to extract.
Statoil was one of several companies that spoke out against the government's decision and warned it could cripple investment in the offshore industry and cost thousands of jobs.
The day after Statoil confirmed it was reassessing Mariner and Bressay, it emerged that another North Sea operator, Valiant Petroleum, had been forced to drop a near-£100million project because it was no longer viable.
Chancellor George Osborne said at the time that Statoil was used to high-tax regimes because it was a was a Norwegian company, but in July last year the government handed the industry a tax concession to encourage investment.
Just hours after the Treasury announced it would introduce a tax break for new entrants to the North Sea, Statoil said the move had countered the negative impact of Mr Osborne's tax rise and it would press ahead with its massive projects off Shetland.
If Mariner and Bressay go ahead, they will be two of several major developments taking UK oil and gas production into the second half of the century. Last year, BP said it would invest £10billion in projects west of Shetland alongside partners Shell, ConocoPhillips and Chevron.
Recommended for you
X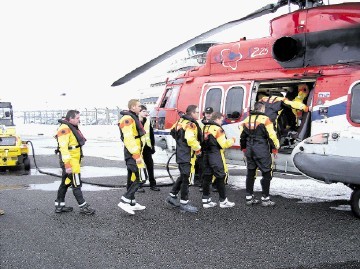 Survival safety at its best