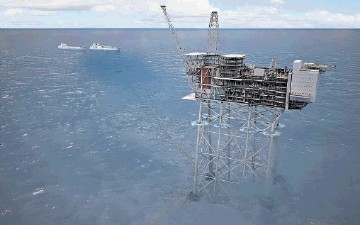 A jobs bonanza is in the pipeline thanks to plans by one of the North Sea's biggest players to invest £18billion in two major projects.
Statoil said its huge Mariner and Bressay fields – two of the UK's largest untapped oil finds – could still be in production 45 years from now.
The Norwegian energy giant had already said work on the two developments could lead to 700 new posts – but now believes the projects will require another 300 people. About a third of the roles will be based onshore at a new operations centre the company plans to set up in Aberdeen, where it will oversee its plans for the heavy-oil projects.
The plans were revealed as Prime Minister David Cameron visited Norway to strengthen energy links with the country and as other firms from the Scandinavian nation announced jobs and investment in Britain.
The future of the Mariner and Bressay fields, off Shetland, was thrown into doubt last year after the UK Government's shock tax raid on oil and gas operators.
However, after the Treasury announced tax breaks to encourage investment, Statoil said the projects were back on track.
The firm said yesterday it planned to invest £6.5billion in developing Mariner and Bressay and expected operational costs to amount to £11.5billion up to 2057.
The company is now expected to commit to Mariner before the end of the year, with the final investment decision on Bressay due later.
If Statoil does go ahead with Mariner, the field could start production in 2016.
Between them, the two fields could hold up to 800million barrels of recoverable oil.
Mr Cameron – who signed an agreement with his Norwegian counterpart yesterday to work together on energy issues – said: "The jobs and investments announced today highlight how vital the strong relationship between Norway and the UK is for our energy security and economic growth. We look forward to strengthening our partnership further, driving investment into a diverse, sustainable energy mix that delivers affordable, long-term supplies for consumers."
Industry body Oil and Gas UK (OGUK) said Statoil's investment in the two projects south-east of Shetland underlined that oil would continue to flow from fields on the UK Continental Shelf (UKCS) for decades to come.
OGUK economics director Mike Tholen said: "There is still up to 24billion barrels of oil and gas reserves to be extracted from the UKCS, with the potential for many fields to still be producing in 40 to 50 years.
"Provided we have the right fiscal and regulatory regime to continue to attract more exploration, development and production, the UKCS will continue to provide tremendous long-term value to the economy, not to mention many thousands of jobs sustained by this industry."
Shetland Liberal Democrat MSP Tavish Scott welcomed Statoil's announcement and said Mr Cameron's visit to Norway would also provide a boost for the islands.
"Shetland has decades of oil and gas experience to offer to investors," he said.
"This new Norway-UK trade deal offers new job opportunities and more investment in the North Sea. Shetland can be a hub for new work and is open for business."
Statoil also extended an agreement with Scottish Gas owner Centrica yesterday.
The two companies signed a memorandum of understanding last year that led to the pair bidding jointly for North Sea licensing blocks last month. They said they had now extended their arrangement until June next year.