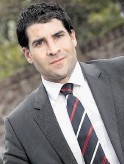 A Scottish investment company set up in 2010 to encourage the next generation of oil and gas entrepreneurs said yesterday it had created more than 30 jobs to date.
Enerco Venture, of Aberdeen, supports two Granite City firms: Operational Excellence Group (Opex) and Mintra Training Portal. It is also forecasting hitting combined annual turnover of £5million by the end of 2012 while adding to its workforce.
Behind Enerco is Jamie Bennett. He was previously founder and chief executive of Aberdeen e-learning company Atlas Interactive, sold to private-equity investor HgCapital for an undisclosed sum in 2007.
Mr Bennett began Enerco to meet what he saw was a gap in the market by providing flexible finance and hands-on support and mentoring to emerging entrepreneurs in the oil and gas sector.
Opex aims to help oil and gas companies eliminate production loss and unplanned breakdowns. It was started in August 2010 after receiving a seven-figure boost from Enerco.
Mintra Training Portal is a joint venture between Enerco and Norwegian firm Mintra and is a provider of competency services for the oil and gas industry, with 300 clients.
Enerco put a six-figure sum into the joint venture a year ago.
Mr Bennett, chairman and CEO of Enerco, said: "It is really satisfying to see our group of companies growing and creating new jobs. Both Opex and Mintra Training Portal offer something different to the industry and bringing in the right people is essential to driving our plans forward. Enerco Venture provides a unique mix of entrepreneurial excellence and investment finance to emerging companies in the oil and gas industry. It takes a lot more than just finance to realise success."
Recommended for you

The clean energy funds financing the future