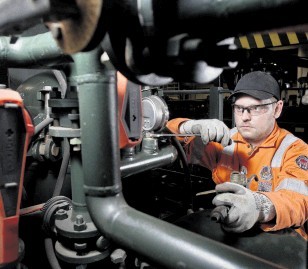 Portlethen-based Cetco Oilfield Services will unveil new oilfield water-processing technology this week aimed at a multibillion-pound market.
The firm's US parent has invested millions in the development of CrudeSep DGF. Kiko Sanchez, chief chemist at Cetco, will reveal the new technology at today and tomorrow's NEL Produced Water and Environmental Conference in the Marriott Hotel, at Dyce, Aberdeen.
Cetco area manager Paul McAlister said: "The amount of water produced, as a byproduct of North Sea oil production alone, is in the region of 2billion tonnes per year.
"Cetco services this global market with produced-water technology CrudeSep IGF, with more than 20 permanent installations and numerous other temporary applications in use internationally. The continued development of these technologies is vital to help meet environmental discharge legislation and maximise hydrocarbon production.
"Our new CrudeSep DGF technology is a game-changer for the produced-water market."
Cetco, which has 25 staff at Portlethen, aims to increase turnover from £3million to £10million in three years.