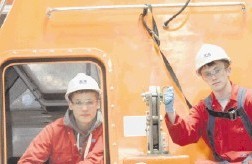 Survival Craft Inspectorate (SCI) said yesterday it had recruited two new apprentices and planned to take on four more in the next six months after a flood of applications.
The marine safety specialist had more than 100 young people put their names forward to become its latest trainees.
Managing director Angus Campbell said: "Developing our own talent has been extremely beneficial to the business and to the team. Encouraging young people into the industry is vital for its continued success and the future of our business."
SCI, a global provider of emergency marine evacuation systems, has 148 staff at nine locations worldwide. More than 90 of the team are based at the company's headquarters at Findon, near Aberdeen.
The firm is going through a period of expansion, including a £250,000 upgrade of its Findon base. It has opened an office in Florida to support its recent acquisition of the selling rights to a product, RocLoc, from Newfoundland-based Mad Rock Marine Solutions. The patented RocLoc system is a lifeboat-release mechanism that is widely used in the cruise-ship industry.
Six experienced staff have been taken on by SCI in the past month and the firm plans to add a further four in the next few weeks. Annual turnover is £15million but this is expected to rise to more than £25million in its next full trading year.