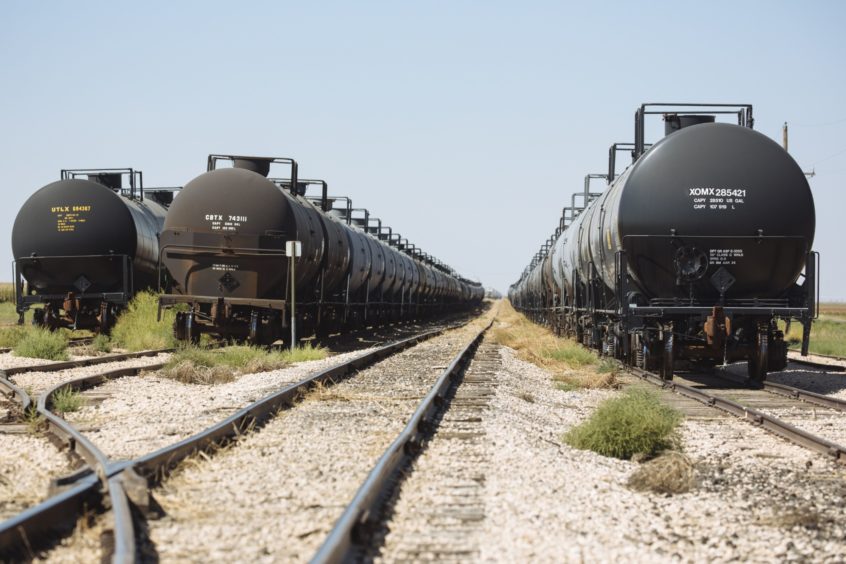 Oil rose to $45 a barrel in London for the first time in 10 weeks as an apparent drop in U.S. crude stockpiles added to the rally driven by a vaccine breakthrough.
The American Petroleum Institute reported crude inventories dropped by 5.15 million barrels last week, with gasoline and diesel stockpiles also decreasing, according to people familiar with the data. Official government figures are due Thursday. The median estimate in a Bloomberg survey forecast nationwide crude stockpiles shrank by 1.9 million barrels.
Oil has rallied over the past two days, buoyed initially by the election of Joe Biden as U.S. president and followed by a broader market surge on the vaccine news.
At the same time, the overall price structure has strengthened with a sharp narrowing of the spreads between monthly contracts, signaling that fears of oversupply are abating.
The discount on front-month Brent versus contracts three months out has shrunk to 75 cents, the smallest gap — known as "contango" — since July. In U.S. markets, the spread between June and December 2021 has narrowed to 34 cents from $1.34 at the start of the month.
There are reasons to be wary of the latest price surge, however. Covid-19 infections surged in Europe and the U.S., with Italy reporting the most fatalities since April and American cities including San Francisco announcing new restrictions. Early findings on a vaccine showed it protected most people from Covid-19, but it's likely to take some time to roll out if it proves effective.
Goldman Sachs Group Inc. said fresh outbreaks will present a speed bump, while BMO Capital Markets said it is "too soon" for $50 oil as the market contends with rising Libyan output.
"The giddy risk-on trade of the past couple of days is pricing in future hope, but not the immediate practicalities and realities of a worsening virus surge on both sides of the Atlantic," said Vandana Hari, founder of Vanda Insights in Singapore. The timing and access to a potential Covid-19 vaccine point to plenty of challenges, she added.
Prices –
Brent for January settlement gained 3.2% to $45 on the ICE Futures Europe exchange as of 9:55 a.m. London time, the first breach of $45 since Sept. 2. It advanced 2.9% in the previous session.
West Texas Intermediate for December delivery rose 3.7% to $42.89 a barrel on the New York Mercantile Exchange
U.S. gasoline stockpiles dropped by 3.3 million barrels last week, while distillate inventories, which includes diesel, shrank by 5.62 million barrels, the API reported Tuesday. The Bloomberg survey is predicting motor fuel supplies expanded by 400,000 barrels.
The next major event for the market is the OPEC+ meeting at the end of the month, with Vitol Group predicting a major draw on excess global inventories if the group delays a planned easing of cuts.