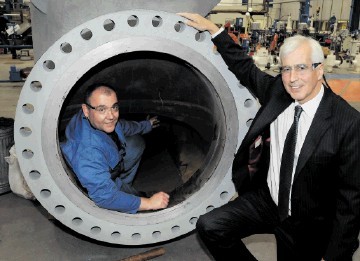 Valve engineering specialist Severn Glocon Group has acquired LB Bentley for an undisclosed sum as it seeks to diversify its offering and make inroads to the subsea market.
This is the second takeover revealed by Severn Glocon in recent weeks, the group having also bought butterfly valve manufacturer Leeds Valve, again for an undisclosed sum.
LB Bentley, headquartered in Stroud, Gloucestershire, designs and manufactures small bore subsea valves for the global oil and gas industry, as well as high-pressure filters and desiccant dryers – also for a worldwide market.
The firm's core business is in patented valves – including rotary gate valves – for Christmas tree and wellhead applications. It has expected sales of £22million in fiscal 2012.
The deal, described as friendly, means that Severn Glocon is acquiring all LB Bentley intellectual property rights, assuming the firm's 154 employees and continuing with its 60,000sq.ft Stround complex.
Bentley will for now, operate as a standalone division within Severn Glocon Group, with director Bernard Bentley continuing to lead his management team.
Severn Glocon is a major manufacturer of specialised control and choke valves and a provider of valve after-market services for the oil and gas, LNG and processing industries. The Bentley takeover is said to enhance the group's core capabilities and will further strengthen its global positioning.
Meanwhile, North Sea operator CNR has awarded Severn Group subsidiary Severn Unival a three-year contract to manage control and choke valve populations across its five UK Continental Shelf platforms, three of which are located in the Ninian field. Severn Unival's task is to ensure that the control and choke valves on these mature assets operate effectively and efficiently to support productivity and satisfy KP4 health & safety objectives associated with ageing platforms.
The deal will run back-to-back with a previous three-year contract initially awarded in 2006, then stretched with all available extension options.
CNR's instrument technical authority, Craig Reid, said of the new arrangement: "Our objective is to extend the life of our North Sea assets to maximise profitability without compromising safety.
"Severn Unival's philosophy is to consider each control valve individually as well as treating the population as a whole. This ultimately proves to be the most cost-effective approach. It underpins precise technical specifications that enable shrewd repair, retrofit and replacement activity."