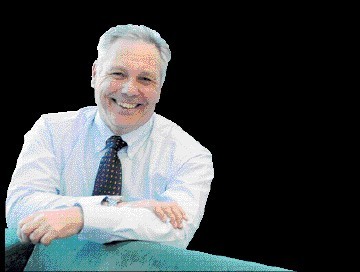 Tails are high at AGR; two-and-a-half years into mastering and running almost the entire current Falkland Islands drilling campaign, plus overseeing one of the longest supply chains in the history of offshore oil and gas, the company is on the home straight, for now at least.
The likelihood is that the current rig, Leiv Eiriksson will finish up in October or thereabouts before leaving Falkland waters for its next assignment.
Aberdeen has been the command post for what is the second only hunt for hydrocarbons in the UK dependency's waters. The first was in 1998 when six wells were drilled, five of which encountered hydrocarbons. However, the programme was abandoned swiftly by the various companies that took part as oil prices were in crisis at the time.
In ultimate command of the current programme is Ian Burdis, executive VP for UK, West Africa and Asia-Pacific at AGR. He has been intimately involved throughout.
"You can probably trace the origins of this (campaign) back to 2006 when Desire Petroleum knocked on the door of the old Peak Well Management organisation in Aberdeen looking for some assistance on well design," says Burdis.
"So we got engaged there full in the knowledge that it was unlikely that anything was going to happen for a reasonably long period because of the remote nature of the Falkland Islands and the need to have rig availability, and a programme that was long enough to attract a rig contractor in the first place."
Basically, Desire, which had drilled unsuccessfully in the first campaign, had a number of blocks and needed to prioritise identified prospects so a campaign could be put together. The company raised enough money to buy key drilling consumables, notably well casing and wellheads. The idea of a second Falklands oil hunt was being born. But where was the rig to come from?
At that point, Desire poached Peak director Bob Lyons as its operations director. This happened about a year after AGR acquired Peak in 2006. His job was to secure a rig, head south and drill.
According to Burdis, Lyons hunted as far as the Gulf of Mexico and Brazil for rig capacity. In the end, it was Diamond Drilling's Ocean Guardian, then cold-stacked at Invergordon for a considerable period except for one job executed in the late 1990s for Serica, drilling west of Ireland. It was AGR that managed the contract, and successfully.
Ocean Guardian was returned to Invergordon to face further lay-up until the idea of taking her to the Falklands was sold to Diamond management. Desire needed a rig and Diamond decided to take the risk. A deal was struck on the basis of a four-well programme.
Burdis: "We ramped up, did all the procurement while the rig was sailing south. We converted our engineering contract with Desire into an operations contract, plus we contracted boats and the wherewithal to do the work.
"We deployed people into the Falklands; we prepared hard-standing for a pipe-yard, stores, warehousing; all that was built using local contractors.
"We secured helicopters and took them down there so that means refuelling facilities, liaison with the local hospital and so-forth . . . everything needed for a remote operation.
"We loaded in the region of 11,000 tonnes of equipment from Aberdeen harbour between Christmas and New Year 2010. We sourced cement from Belgium; then there was the casing and wellheads and all of the rental equipment.
"We successfully moved all that equipment south and I believe that, during the course of the first four wells, the biggest piece of equipment we had to airfreight to the Falklands was 48kg.
"Everything else went on the boats. It was as much a logistics, procurement and contracting exercise as it was a drilling assignment. That was quite a challenge."
The rig was contracted directly by Desire. Strategically that was so it could directly manage options including trying to offset some of the mobilisation costs incurred by bringing in other players.
Burdis: "Initially it was just the four wells for Desire, though that was built with rolling options up to a much bigger programme. BHP came in, taking one slot, having farmed-in with FOGL to drill the Toroa prospect. We supplied all third party services but didn't do any of the well supervision or engineering for that as it was all done in-house by BHP.
"Then they handed it all back at the end and the rig was then picked up by the Desire-Rockhopper team."
That four-well programme turned into 16 wells – Desire five, Rockhopper 10 and BHP -one. And it yielded Sea Lion for Rockhopper, the first commercial oil discovery in Falklands water.
That initial exploration has evolved into conceptual designwork for the Sea Lion development, Rockhopper having hired AGR to carry out the conceptual development work.
"We're now engaged in doing the pre-FEED engineering for all well-related subsea work . . . well designs, completion designs for an FPSO-based development.
"At the moment it's looking something like 34 wells for a full-field development. Clearly this will be phased. We're talking about a 2014 timeframe."
That's Rockhopper, but campaign initiator Desire has been less lucky with its exploration with no operated successes, though it is a stake-holder in the licence that yielded Sea Lion.
As for the FOGL / BHP probe of the Toroa prospect, that was a duster, after which the Australian natural resources group pulled out.
Today, the Guardian is back in the Cromarty Firth being refurbished.
Enter the rig Leiv Eiriksson.
"As we were operating in the Falklands for Rockhopper, we were talking with Borders & Southern, FOGL, Argos and other acreage holders," says Burdis. "Had the fund-raising gone better for Argos then they might have drilled two wells on the Ocean Guardian campaign too.
"Borders & Southern engaged with us to do two wells in the Southern Basin, which was clearly outwith the capabilities of Ocean Guardian; 2,000m of water, a long way from land.
"They had already raised their money and were waiting for the right rig. Between us we spent quite a bit of time trawling the deepwater, harsh environment rig market."
Ultimately it was Ocean Rig's Leiv Eiriksson that was selected and it arrived in Falklands waters in February (THIS YEAR) to immediately set to work on the first Borders & Southern target, Darwin. Meanwhile, B&S was successful in selling rig capacity to FOGL for its two-well programme and AGR secured all four wells.
The first B&S well hit paydirt . . . a major gas-condensate find, the fluids of which were being analysed at the time of writing. Speculation is that the find will be judged commercial.
"It's always a pat on the back for your sub-surface team when a well comes in. Darwin took a bit longer to drill than planned due to rig downtime. The BOPs had to be pulled twice," says Burdis.
The rig quickly moved on-trend to another promising target . . . Stebbing. It is likely that there will be a results declaration this month.
The Leiv Eiriksson will then go to FOGL to drill Loligo. And if the first well hits the jackpot, a further well may be drilled on the prospect. Alternatives are Nimrod and Scotia.
Recommended for you
X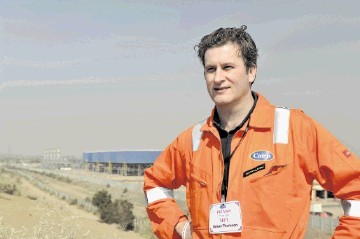 Cairn ramping up UK in major strategic shift