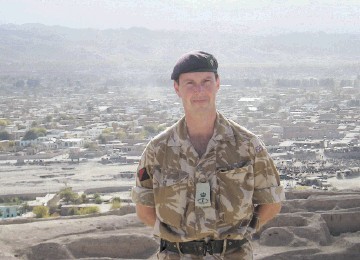 Having joined the oil and gas industry after more than 25 years in the Army, Matthew Wardner has seen several similarities between his two careers.
The 46-year-old is now with Altor Risk Group and is surprised by how much knowledge from his previous role he has taken into his new position.
Mr Wardner, who was a lieutenant colonel, has moved quickly up the ranks at the Aberdeen risk-management specialist and joined its board recently as director of services.
He described the switch to civilian life as a steep learning curve, but some of his previous experience has proved useful.
He said: "There are a lot of similarities between the Army and the oil and gas industry," he said.
"The Army sends its people to extreme locations where they are relying on helicopters to help resupply them, health and safety are critical factors and there is one output. There are very similar building blocks in the oil and gas sector. That is why you see quite a few ex-forces people in the oil and gas industry."
Altor alone counts several former soldiers among its 42-strong workforce – just this week, it has taken on eight people, two of whom served in the forces. The company was set up by Jim Walker, another former soldier who previously founded Rubicon Response, which was bought by Petrofac in 2005.
Altor turned over more than £1.3million in 2011, its first full year in business, but has set its sights on growing this to £3.6million in 2012. It expects a £250,000 investment in new headquarters to help it achieve its growth targets.
Mr Wardner said he was drawn to a career in the oil and gas industry because it seemed to be one of the few sectors in the UK which was thriving, but that in his early life he could not see past the armed forces.
Mr Wardner, who was born and brought up in Worcester, went to Sandhurst for officer training at 18 and immediately joined his local infantry regiment, the First Worcestershire and Sherwood Foresters, leading 30 experienced soldiers. He served in Northern Ireland, Bosnia, Afghanistan and Iraq during his military life, and said operational tours had their highs and lows.
Mr Wardner said: "There are moments you do not enjoy being in the Army – being shot at is not fun – but 98% of my time was great and I look back on it as a fantastic experience.
"The operational tours of duty were tough; the last five or 10 years have been particularly challenging in Iraq and Afghanistan, but when you join the Army that is what you want to do. You do not sign up to sit around and wait for things. The camaraderie you find in doing a worthwhile job in a challenging environment leaves you with friendships that last a lifetime."
After leaving his regiment and before joining Altor, Mr Wardner headed up the Aberdeen Universities' Officers Training Corps where he led 130 cadets.
He said: "It combined two of my passions: one was Scotland and the other was training young people to help them realise their potential."
Mr Wardner – who lives near Banchory Devenick with wife Mhairi and 10-year-old daughter Iona – said he was increasingly frustrated by the difficulty graduates had in finding jobs in the oil and gas sector, despite its much publicised skill shortage. He added: "There is a shortage of skills, but there is no shortage of people wanting to join the oil and gas industry. They just need time to be developed.
"The output from universities is good; graduates just need a bit of time put into their training."
Mr Wardner said more companies in the sector should adopt Altor's approach and take on ex-service people.
He said: "Many service men and women underestimate their worth when they leave the forces. One soldier said to me 'I can shoot straight and make myself look like a tree, but there are not many civilian employers looking for those skills'.
"When I left and tried to get jobs, I was told I was not qualified and did not have five years' experience. If people were saying that to me, it beggars belief what they must be saying to people who are just starting out on their careers."