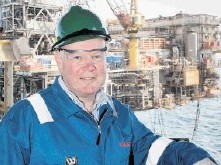 A key engineering design contract for Chevron's multibillion pound Rosebank oilfield development project west of Shetland will be announced in Aberdeen today by UK Energy Minister Charles Hendry.
Industry speculation is that Wood Group, WorleyParsons and KBR are hot contenders for the front-end engineering and design (FEED) contract.
The major construction contracts for the £5billion project could be awarded next year, with development drilling likely to start in 2015 and first commercial production in 2017.
Rosebank ranks as one of the biggest recent discoveries on the UK continental shelf with recoverable reserves thought to lie in the range 250-400million barrels oil equivalent.
A successful test was carried out in 2007 when 6,000 barrels of oil per day were produced.
The overall prize in the area could be significantly larger when satellite oil and gas accumulations are taken into consideration.
Rosebank will be developed using a dedicated new-build sixth generation drilling rig and is to have a purpose-designed and built production and storage unit of up to 1.3million barrels capacity.
Initial production capability would be around 75,000 barrels of oil a day plus gas.
While there is a strong likelihood that the subsea part of the project will deliver direct benefit to the Aberdeen-based supply chain, the drilling rig will likely be Norwegian-owned and built in the Far East. Chevron issued a call for expressions of interest from drilling contractors in January based on a long-term charter against which a new rig equipped for North Atlantic work (UK and offshore Newfoundland) would be ordered.
It is said that Seadrill, Fred Olsen, Transocean, Stena and Odfjell are all keen to secure the work based on charter day rates in the range of £290,000-£322,000 per day.
It is also a near certainty that the floating production unit will also be constructed in the Far East.
o The Treasury is today launching a consultation on plans to unlock billions in new investment in the North Sea. In March's Budget, Chancellor George Osborne revealed a plan to end uncertainty over tax relief on the costs of decommissioning or removing platforms and pipes from the North Sea.
Chloe Smith, economic secretary to the Treasury, is in Aberdeen today to launch the consultation.
The government is planning to sign deeds with industry that will guarantee the long-term level of decommissioning tax relief.
The Treasury said companies will be able to at least halve the securitisation required freeing up billions for new investment.
A Treasury spokesperson said: "By giving certainty on the long-term level of decommissioning tax relief, the industry expects that billions of pounds of investment will be freed up, creating more jobs and ultimately more revenue for the public finances."