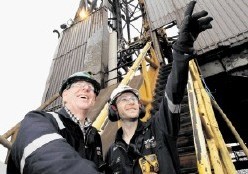 North Sea oil and gas company Fairfield Energy announced more private-equity investment in the business yesterday to allow it to pursue growth opportunities.
Riverstone Holdings is investing £97million in Fairfield and gaining a stake of about 30% – the same as lead investor Warburg Pincus.
The remaining stakes are held by five other private-equity investors.
Former BP chief executive Lord Browne, now a Riverstone partner, is joining the Fairfield board as a non-executive director.
He will be joined on the board by Riverstone managing director Ralph Alexander.
Riverstone also has an option to put in a further £129million alongside future contributions from the other current investors.
Fairfield, which has operational offices in Aberdeen and headquarters in Middlesex, was set up in late 2005. The firm said it had built an extensive inventory of exploration and appraisal, development, and production assets in the northern North Sea and southern gas basin.
It added: "Starting with the acquisition and refurbishment of the Dunlin fields and platform, Fairfield's key assets now also include Darwin, Clipper South and Crawford/Porter. Darwin will see a major programme of exploration and appraisal drilling this year, with three wells planned in partnership with Taqa.
"The Crawford and Porter discoveries are progressing to field-development plan with EnQuest as operator, and first gas from . . . Clipper South . . . is expected this summer."
Fairfield said its management saw significant opportunities in several plays and sub-basins in the North Sea, and these required major new investment.
Warburg Pincus managing director Simon Eyers said: "We are delighted to welcome Riverstone as a joint lead investor in Fairfield. The progress that Fairfield has made in 2011 and 2012, across the whole portfolio of production, development and exploration assets, is testament to the depth and quality of the team and the real momentum they have given the business. We are excited to be so well positioned to capture the considerable value that exists in Fairfield's current portfolio, as well as in the many new opportunities in the North Sea that the company will now have access to with the Riverstone investment."
Pierre Lapeyre and David Leuschen, co-founders of Riverstone, said Fairfield was at the forefront of the next generation of North Sea-focused oil and gas companies.
Fairfield chairman Ron Emerson said: "We are very pleased to welcome Riverstone as a major new investor and welcome Lord Browne and Ralph Alexander, who will be joining the board as Riverstone representatives. They bring significant industry experience and wisdom to the company, and we look forward to their contributions. With a strengthened balance sheet, a quality portfolio and the right team in place, we have an excellent platform and are very excited about Fairfield's future as a highly successful exploration and production company."
Fairfield postponed a stock market listing in 2010 after weak markets spooked potential investors.