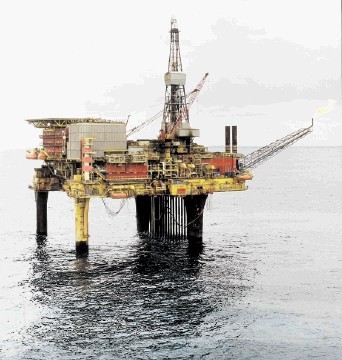 A major offshore company was last night investigating an oil spill at one of its North Sea operations.
Fairfield Energy said there had been a leak of nearly nine tonnes in its Osprey field off Shetland.
A "hydrocarbon sheen" was reported near the site of a subsea manifold.
Two online Osprey wells were immediately closed.
A boat and aircraft were used to monitor the sea surface.
A spokeswoman for the company said last night: "It is estimated that a maximum of 8.7 tonnes of hydrocarbons may have been lost in the initial incident, which dispersed naturally in the prevailing weather conditions.
"Very small quantities of oil are being released intermittently to the surface.
"This oil is dispersing readily and aerial surveillance this morning was unable to find any presence of oil."
Osprey is a multi-well operation which feeds back to the Fairfield-owned Dunlin Alpha, 120 miles north-east of Shetland.
The company said it had notified the relevant authorities about the incident, and was giving regular updates to the UK Government's Energy Department.
A specialist vessel carrying a remotely operated vehicle (ROV) is expected to arrive on scene this afternoon.
Fairfield said production from the affected manifold – which connects pipelines to production facilities – would not resume until the cause of the spill had been identified.
The spokeswoman added: "The event presents no risk to personnel and the Department of Energy and Climate Change has concluded that the spill has had no impact on the environment."
Just over a year ago, offshore giant Shell had to tackle a leak near its Gannet Alpha platform, 110 miles east of Aberdeen.
In that incident, more than 200 tonnes of oil spilled into the North Sea.
And earlier this year, Total had to battle to stem a gas leak from its Elgin platform, 150 miles offshore.