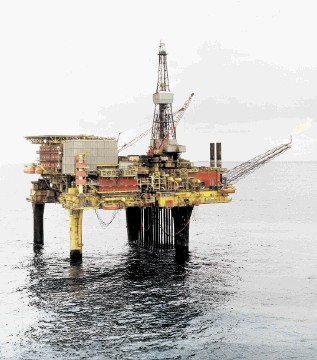 Almost nine tonnes of oil which spilled into the North Sea will have no effect on the environment, according to the UK government's energy department.
The hydrocarbon spill in the Osprey field off Shetland is under investigation by Fairfield Energy Ltd and the UK government's Department of Energy and Climate Change (DECC).
The Department for Environment, Food and Rural Affairs has also been informed of the leak.
Fairfield Energy reported that up to 8.7 tonnes of oil had leaked into the sea in the Osprey subsea manifold which feeds back to the Dunlin Alpha platform.
DECC said in a statement: "The spill presents no risk to personnel and will have no impact on the environment.
"The initial report from the operator was that up to 8.7 tonnes of oil had been released to sea and production from the Osprey field was shut down.
"Visual observations report that there continues to be a very small ongoing release of oil but that this is dispersing rapidly."
The Dunlin Alpha platform is located 120 miles north-east of Shetland.
Visual inspections of the manifold using a vessel with a Remotely Operated Vehicle (ROV) were due to take place over the weekend.
The incident was reported around 8.30pm on Tuesday night and two online Osprey wells were immediately shut off.
A boat and an aircraft were used to monitor the area.
Fairfield Energy said production from the installation would not resume until the cause of the spill had been identified and suitable action taken.
A Scottish Government spokesman said: "This incident is ongoing and we are monitoring the situation.
"The Scottish Government's key role is to assess the impact on the marine environment, which is currently expected to be minimal.
"Marine Scotland is maintaining daily contact with the UK Department of Energy and Climate Change and will continue to update that assessment as the response to this incident continues."
DECC have informed the Secretary of States Representative for Maritime Salvage and Intervention (SOSREP) and will continue to monitor the incident.