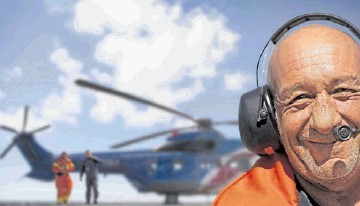 The chief executive of Aberdeen-based Dana Petroleum said yesterday it was on target to achieve output of more than 100,000 barrels a day by 2016.
Marcus Richards was speaking as the firm officially released its results for 2011, which showed pre-tax profits of £467million on turnover of £1.087billion.
Korean national oil firm KNOC acquired Dana for £1.67billion near the end of 2010.
Mr Richards said: "As a transitional year, 2011 went very well for Dana Petroleum. We are delighted to have established a successful partnership with KNOC and created the momentum necessary to significantly grow the company.
"We are on track to achieve our goal of more than 100,000 barrels of oil equivalent per day (boepd) by 2016.
"With steady and sustainable production, we are reinvesting the cash Dana generates to fund a range of exploration, development and production activities across the portfolio, with immediate successes already being realised in both the UK and Egypt.
"These are exciting times for Dana. We are growing, not only in terms of size, financial success and production but also geographically, and we are building an exceptional team to ensure a bright future."
Operational highlights for 2011 included an increase in production from 41,125 to 61,970 boepd.
Just last week, Dana said it was ordering a new-build floating production vessel for its near-£1billion Western Isles North Sea development.
The contract for the project, due on stream in late 2015, is due to be given to Singapore-based Cosco later this year and is based on a design worked up by Sevan Marine for Dana.
The development, about 100 miles east of Shetland and 65% owned by Dana, is expected to support up to 200 jobs, including about 20 additional posts at the firm in Aberdeen.
It is expected to produce about 40,000 boepd, adding more than 26,000 boepd to Dana's UK production.
Dana employs around 1,000 people – a mix of staff and contractors – with around 200 of them in the new Aberdeen office in Huntly Street.
Recommended for you

Putin's state oil champion suffers biggest production drop